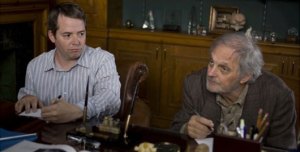 Diminished Capacity
Running time 92 minutes
Written by Sherwood Kiraly
Directed by Terry Kinney
Starring Matthew Broderick, Alan Alda, Virginia Madsen, Dylan Baker, Bobby Cannavale, Louis C. K.
Terry Kinney's Diminished Capacity, from a screenplay by Sherwood Kiraly, is based on Mr. Kiraly's gentle and yet hilariously hectic novel spoofing the insane predilections of people entangled in the mania surrounding the hunt for an obscure baseball card of a Chicago Cubs player from the early days of our national pastime. Again, as with The Wackness, for a low-budget project, Diminished Capacity is blessed with a blue-ribbon cast. Most notably, Matthew Broderick as brain-damaged Cooper, a downward-drifting Chicago journalist, and Virginia Madsen as Charlotte, a spunky, divorced mother of one and Cooper's former flame in their hometown, LaPorte, Mo.—naturally a stronghold of St. Louis Cardinal fans. The Cardinals, unlike the Cubs, have long been the winningest National League team against the American League. Alan Alda completes the trio of top performers as Cooper's terminally demented Uncle Rollie, who believes that fish pulling on the strings attached to the keys of his typewriter, which is perched on the banks of the Mississippi River, will somehow serendipitously produce readable poetry.
Cooper's mother, Belle (Lois Smith), wants to put Uncle Rollie in a nursing home for his own protection, and asks Cooper to come back home from Chicago to help her persuade him. And then there is Wendell (Tom Aldredge), the completely senile neighbor of Uncle Rollie and Belle, in a trailer he protects zealously with a shotgun against any strangers who might come to arrest him for some ancient misdemeanor everyone in LaPorte has forgotten.
The very title, Diminished Capacity, played as it is for uneasy laughs, may initially disturb viewers like me with memory-loss problems of our own. Yet by the time the film is over, with its redemptive ending for Cooper, Uncle Rollie, and the indispensably clear-minded Charlotte, one realizes that one does not have to be afflicted with "diminished capacity" to do crazy things beyond the realm of reason in the service of some seemingly trivial mania. Dylan Baker and Bobby Cannevale as Mad Dog McClure and the very dangerous Lee Vivyan (particularly when he is mockingly misnamed Vivien Leigh) both exemplify two sides of this midsummer madness connected, as it is, to masochistic memories of the Chicago Cubs in all their inglorious ineptitude, which seems to be extended to this season.
asarris@observer.com