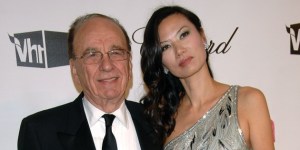 Rupert Murdoch lost his wedding ring!
How? Well, he was under the influence, naturally.
According to Reuters report the media mogul was getting "sloshed" with other media and tech moguls at the Sun Valley Lodge. But! As everyone was exiting, Mr. Murdoch stayed behind in the lobby and told reporters that he was hunting for his wedding ring.
Best part of the tale: concerned reporters joined Mr. Murdoch in search of the lost ring–What will Wendi do to him?–in hopes of scoring an interview. Alas, the ring remains to be found.
[Via Huffington Post]