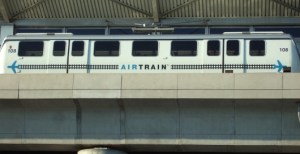 To celebrate the 60th birthday of JFK Airport on July 25, the Port Authority will offer travelers free rides on the airport's monorail system, the AirTrain. A one-way ticket's normally $5.
Release below:
THE PORT AUTHORITY THANKS ITS CUSTOMERS
AS KENNEDY AIRPORT TURNS 60
Travelers Encouraged to Leave Their Cars Home Next Friday
and Take a Free Ride on AirTrain JFK
The Port Authority will provide free AirTrain JFK rides on Friday, July 25, as a thank you to customers who have helped make John F. Kennedy International Airport the country's premier international gateway, and one of the world's most venerable aviation facilities.
Chairman Anthony R. Coscia said, "Our customers are our greatest asset. Free rides on AirTrain JFK are our way of thanking our customers for making JFK Airport the nation's premier gateway for the last six decades, while highlighting this great mass-transit option and reducing the number of cars on the road."
Executive Director Chris Ward said, "Our customers are our number one priority. Kennedy Airport would not be the world-class airport it is today without them. We hope this small benefit gives them one more reason to come to Kennedy, use AirTrain JFK, and reduce traffic on our roads."
The first passenger arrived at what was then known as New York International Airport on July 9, 1948, on a Peruvian International Airways DC-4 from Santiago, Chile. The airport was dedicated three weeks later, on July 31, 1948, in a ceremony attended by more than 200,000 people, including President Harry S. Truman.
The airport has undergone numerous transformations since then, including a name change in 1963 to honor slain U.S. President John F. Kennedy. Contrary to popular belief, the airport has never had any other official name, although it was commonly referred to as Idlewild.
In the 1960s, the airport became home to several new passenger terminals, including one of the icons of modern American architecture – the TWA Flight Center, designed by renowned architect Eero Saarinen. Rehabilitation work is currently under way in the building, and it is expected to reopen to the public later this year, as is a new passenger terminal under construction directly behind the Saarinen terminal.
The 1970s at JFK saw the advent of supersonic flight and ever-larger jets, including the inaugural voyage of the B-747. In the 1990s, the Port Authority spearheaded what would become a $9 billion-plus, public-private redevelopment program that has delivered new terminals, parking garages, roadways, cargo facilities and AirTrain JFK, the airport's rail system, which opened in 2003 – on the 100th anniversary of powered flight – and has since served tens of millions of airport customers. The Port Authority's 10-year capital plan earmarks more than $6.4 billion for aviation-related improvements.
In 2000, JFK welcomed its one billionth passenger, and since then, nearly 300 million additional travelers have passed through the airport during a period of unprecedented growth in air travel.
Next month, the airport ushers in another new era: The first scheduled flight of the A-380, the largest passenger aircraft in the world, is set to arrive at JFK's Terminal 4 on August 1.