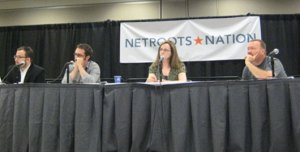 Steve Hildebrand was getting an earful.
Barack Obama's soft-spoken deputy campaign manager had just finished a panel discussion at the Netroots Nation convention in Austin, Texas, on July 19, during which he had called on liberal bloggers to help meet the demands of the 24-hour news cycle by beating back criticisms of the candidate. The more people there were participating in the campaign, he argued, the greater the likelihood of Mr. Obama's election and an enduring Democratic majority.
Much of the audience applauded, but one high-profile attendee took exception to Mr. Hildebrand's portrayal of an enlightened, democratic campaign.
"It's viewed as a top-down campaign," Andrew Rasiej, technology entrepreneur and founder of the online-politics-focused Personal Democracy Forum, told Mr. Hildebrand after the panel. He argued that for online activists, the open, interactive character of the campaign "was not coming through," and that Mr. Obama should consider letting supporters collaborate on policy or "share governance post-election."
"It makes great sense," Mr. Hildebrand said perfunctorily. Shortly afterward, he headed for the exit, followed by Mr. Rasiej.
By almost any measure, the Obama campaign's online activities have been a roaring success. The campaign has taken the Internet technology pioneered by Howard Dean in 2004, expanded on it and built what is in essence a multimedia company capable of competing with the traditional press in communicating with potential supporters. And that audience, in turn, has responded with hundreds of millions of dollars in campaign contributions, thousands and thousands of volunteer hours, and instant, on-demand outrage directed at media outlets whose coverage is deemed unfair to the candidate.
But as progressive as the campaign has been about outreach, they have been just as regressive when it comes to that other idea espoused by Netroots proselytizers: decentralizing control over message. The Obama campaign is the most tightly controlled and disciplined campaign since the advent of the bruising political machine that managed to get George W. Bush elected twice.
For now, Web purists aside, liberals don't have a problem with that.
"He would not be in this position had he not had a remarkable capacity for message discipline," said Gavin Newsom, the mayor of San Francisco and an Obama supporter.
On an escalator at the blogger convention, he compared Mr. Obama's message discipline to that of George Bush's 2000 campaign, but said Mr. Obama was more "eloquent." "They cannot let that message be corrupted," he said. "It is crucial that they keep maintaining that voice and discipline."
Certainly, it has been effective.
Take, for example, the way the campaign dealt with the July 19 news that Iraqi Prime Minister Nuri Kamal al-Maliki told Der Spiegel ahead of a visit by the Democratic nominee that Mr. Obama's 16-month exit strategy "would be the right time frame for a withdrawal."
Soon afterward, a statement was posted on my.barackobama.com from Susan Rice, a foreign policy adviser on the Obama campaign, saying that Mr. Obama "welcomes Prime Minister Maliki's support for a 16 month timeline." Shortly thereafter, the Obama campaign e-mailed to reporters a lengthy and widely circulated memo emphasizing that "Prime Minister Nouri al-Maliki supports Barack Obama's timeline."
By contrast, it took the McCain campaign—which was, admittedly, placed in an appallingly bad position—about another six hours to come up with a response, and when it did, it tried to portray Mr. Maliki's remarks as reflecting Mr. McCain's thinking that facts on the ground should determine a withdrawal plan. But it was already over.
Marc Ambinder, who blogs for The Atlantic, posted a quote from an e-mail written by someone he identified as a prominent Republican strategist who occasionally provides advice to the McCain campaign: "We're fucked."
There would be some subsequent pro forma back-and-forth about whether Mr. Maliki's statement had been misreported or mistranslated (it hadn't) and about whether it wasn't actually consistent with what Mr. McCain had been saying about withdrawal (it wasn't). But by the time The New York Times came out with its A1 news analysis on July 22, the online media had long since rendered a verdict that essentially left the McCain campaign's "surrender" argument in ruins.
"They went on the offensive in a very smart way," said Democratic consultant Chris Lehane, who worked for Al Gore in 2000 and John Kerry in 2004.
He said that the people around Mr. Obama "appreciate and recognize that they can drive the news cycle of the day by using the online world, their capacity to reach out to it, their capacity to put information out there on it, their capacity to influence dialogue and then drive the larger news cycle. And I think that's exactly what they have been doing."
This, according to the Obama campaign, is precisely the way things are supposed to work, whether it's a case of jumping on good news—as in the Maliki example—or responding to attacks.
"In a 24-hour news cycle and the high occurrence of the people on the Internet, we need immediate response," said Mr. Hildebrand at the Netroots convention, which took place as the drama over Mr. Maliki's comments unfolded. "We need help. We can't do it all on our own."
Asked in an interview after the panel if the Obama campaign was trying to replace traditional media as a primary source of news, Mr. Hildebrand said, "I don't know that we are trying to be competitive. I know that we are trying to cover all of our bases."
During the panel, Sam Graham-Felsen, one of the campaign's official bloggers, sat with reporters and downloaded onto his laptop interviews he had conducted with convention attendees. As the campaign officials presented high-quality, Obama-boosting videos that began and ended with Obama's logo moving majestically across the screen (think of DreamWorks' boy fishing from the crescent moon), he snapped photos of the speakers, and posted on the event for his readers and the corps of bloggers he keeps in touch with daily in all 50 states.
The director of online media for the campaign, Joe Rospars, who was also on the panel, said in a subsequent interview that the Obama Web site was a news source "for sure." He referred to a blog post on the site about an Obama organizer in Missouri, and argued, probably correctly, that most mainstream news outlets wouldn't pursue such a story. "It's reporting, and we have resources and incentive to report in a way that news outlets don't necessarily have," he said.