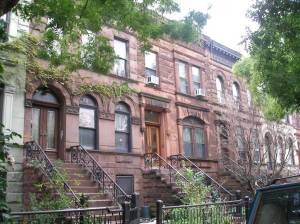 The brownstone-laden neighborhood of Prospect Heights in Brooklyn may soon see new preservation regulations as the city has taken a step toward creating a historic district in the area north of Prospect Park.
On Tuesday, the city's Landmarks Preservation Commission is slated to vote to "calendar" a proposed historic district for the neighborhood, the first significant step toward the area receiving the protected historic district status. Running from Flatbush Avenue to Washington Avenue, between Eastern Parkway and Atlantic Avenue, the area is filled with houses and other buildings built in the early 20th century and mid-19th century. After a vote to calendar a district, the proposal receives a public hearing and a vote by the LPC.
The boundaries of the study area, according to a draft map from the LPC [PDF], seem to follow the brownstones and similar buildings through the neighborhood.