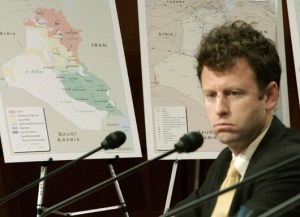 Eighteen months after former secretary of defense Donald Rumsfeld retreated from his post under heavy criticism for, among other things, mishandling the invasion of Iraq and legitimizing torture as an interrogation technique, some Washington insiders are revisiting his strategies and tactics.
Notably, resurrecting Rumsfeld's idea – a comprehensive plan to overhaul the military – hasn't been reintroduced into the public dialog by die-hard neo-conservatives. The project is being led by a faction of security-obsessed Democrats.
Several weeks ago, military analyst Michael O'Hanlon of the Brookings Institution published a 60-page report, "Unfinished Business: U.S. Overseas Military presence in the 21st Century," which recommended that the next president return to Rumsfeld's "chief intellectual and policy accomplishment during his six-year tenure at the Pentagon." He was followed shortly afterward by Robert D. Kaplan, who came out with "What Rumsfeld Got Right" in the July/August "Ideas Issue" of The Atlantic. The Atlantic also produced, with Kaplan as narrator, a 13-minute video accompaniment to his essay.
Both men hold prominent positions within the year-old Center for New American Security (CNAS), a group of Democratic foreign policy hawks. According to its website, CNAS "develops strong, pragmatic and principled national security and defense policies that promote and protect American interests and values," but a less charitable interpretation – the one embraced by the group's liberal opponents — is that it is a receptacle for Democrats who need to atone for their neocon sins.
What Rumsfeld got right, O'Hanlon and Kaplan say, was his Global Posture Review (GPR). At its core, the GPR would result in approximately 70,000 military personnel relocating from Europe and places like South Korea to new regions of strategic importance such as Africa and Central Asia. Whereas previous base realignments would upsize and downsize as needed, the intention of the GPR would be to adapt to different scenarios with greater ease. Contrary to frequent misconception, the GPR is not primarily about withdrawing U.S. military forces from around the world; it is about reconfiguring the military basing structure in a post-Cold War era, to make deploying forces more nimble in the changed geopolitical environment.
Accommodating the troop repositioning recommendations of the GPR requires redefining and clarifying the main operating bases, bases with modest U.S. support presence for shorter periods, and bases where minimal U.S. presence is detected. Construction costs for new or expanding bases and the costs associated with closing the ones to be vacated are estimated at $20 billion according to a 2005 report by the Congressionally-mandated Overseas Basing Commission. But, as O'Hanlon points out, it's not just the bases; the GPR also requires taking advantage of the entirety of American military capabilities including easily deployable forces, pre-stationed military equipment, "interconnected by a global reconnaissance and communications system including assets situated in space."  
In Congressional testimony before the House Armed Services Committee in February 2004, Rumsfeld explained why the changes were necessary: "We need the global posture changes to help us reposition our forces from around the world so that we're stationed not where the wars of the 20th century happen to end, but rather they're arranged in a way that will allow them to deter and, as necessary, defeat potential adversaries who might threaten our security or that of friends and allies in the 21st century."
Rumsfeld was not embarking on uncharted territory by suggesting that the military is need rearranging. But the concern, as expressed by some prominent figures in the community of Democratic-leaning foreign policy thinkers, is that Rumsfeld's GPR will only reinforce the Bush-era foreign policy ideas that have damaged America's international standing.
In an interview, O'Hanlon explained why he was prepared, at least in the case of the GPR, to defend Rumsfeld's vision. "The problem with Rumsfeld wasn't his sheer intelligence; it was his judgment and intellectual arrogance," he said. "In other words, he had lots of ideas, many good, many bad, but he didn't listen enough to others and as such didn't figure out as often as he should have which ideas were bad–especially on Iraq…it remains possible that he could in fact be largely right about something else."
Kaplan agrees with O'Hanlon's assessment of Rumsfeld's hardheadedness but also insists that "Rumsfeld, who is often accused of micromanaging, did not micromanage enough." Kaplan asserts that "Rumsfeld was so busy thinking about the Iraq's 'obvious' military moves-launching chemical weapons, making a last stand in Baghdad-that he neglected to hedge against what they actually did: melt away and return weeks later as small bands of insurgents…By the time Saddam Hussein's statue was toppled in Baghdad, we had become too impressed with our own military to see it as a 'superb target.'"
A longtime fellow at the Brookings Institution, O'Hanlon became a familiar character to a new audience leading up to and following the invasion of Iraq in March 2003. He appeared at least daily on major news stations, often alongside his Brookings partner, Ken Pollack, and became one of the most prominent liberal proponents of the war.
Ensconced in a simplified version of the language of policy analysis and militarism, his proposals seemed a perfect match for the military problem the U.S. reportedly faced, while simultaneously escaping the rhetoric of ideology and morality. With the ability to make coherent for citizens the questions of capabilities, positioning, budgets and strike power, he helped normalize the Iraq invasion.
For his part, Kaplan (who began as Senior Fellow at CNAS in March) is known by those who have followed him from his first books-Surrender or Starve, Soldiers of God, Balkan Ghosts-as the quintessential dusty journalist who has, for more than 25 years, reported from every corner of the globe, most of which are the world's most dangerous destinations. More recently his place in the world has become blurred. It's unclear as to whether he is a journalist, a popular historian, or a world affairs expert who has had the ears of the Clinton and Bush administrations.
Here's Kaplan, from his Atlantic article, on the GPR: "In Rumsfeld's view, U.S. troops in one part of the world would have to be ready to deploy at a moment's notice, and be ready to fight or provide relief. Everything would be expeditionary. Hence his fixation with changing the global posture of the military, and transforming it as a fighting force." 
And then, demonstrating allegiance to both administrations: "The intellectual groundwork for both transitions was started during Bill Clinton's administration, but Rumsfeld is the one who got them going."
And finally, a pro-GPR, anti-Rumsfeld conclusion: "So Donald Rumsfeld finally got it right. But as Richard Schultz Jr. of the Fletcher School argued, his being half-wrong on operational strategy for too many years cost too many Iraqis, Afghans, and Americans untold suffering. No improvements in Iraq and Afghanistan will reverse that verdict. As for the rest, developments in Asia, Africa, and Europe for years to come will say much more about Rumsfeld's legacy."
O'Hanlon does say that some adjustments need to be made to the GPR and "it will only work well if the next administration fixes the broader foreign policy within which it is situated."
Some critics think O'Hanlon has the sequencing backwards.
Andrew J. Bacevich, a professor of international relations at Boston University and author of The New American Militarism, said, "It's always interesting to discuss the rearrangement of deckchairs if the vessel is shipshape. O'Hanlon is interested in redeploying US forces to fight the 'long war.' But does the 'long war' make sense as the basis for U.S. national security strategy? What the next administration needs to do is to get the strategy right-and only then worry about where our forces should be."
William Hartung of the New America Foundation contended that a Rumsfeldian approach to restructuring the U.S. military base network at this point is "a case of way too little, way too late." And given the denigration of the American global reputation caused by its irresponsible actions in Iraq, he said, "One of the best ways to restore confidence in the U.S. globally would be to adopt a non-interventionist posture" that would include "substantial cutbacks in the U.S. overseas base structure."
Because Rumsfeld insisted that the United States isn't an empire and did not have permanent aspirations in Iraq, the GPR did not devote any serious attention to the problem.
On that issue, O'Hanlon said, "It would not be prudent to start thinking about any long-term American military bases in Iraq at present. This is at best a very premature idea to consider."  And if the permanent presence of the United States in the region is "ever seriously contemplated," he said, it should be an idea that comes from a future Iraqi government-not the current one that is seen as too close to Washington.
While the Bush administration never has formally acknowledged the construction of permanent bases in Iraq, the nature of the military facilities suggests otherwise. Hartung said, "They are state-of-the-art, highly durable facilities that wouldn't make much sense if the plan was to get all U.S. troops out of Iraq in two, or three, or even five years."
Hartung continues, "It would obviously be better from a P.R. and global politics perspective if an Iraqi government signed off on or 'invited' a long-term U.S. presence. But if the Pentagon wants permanent bases, they will no doubt twist the arms of whatever Iraqi government is in power to make it happen. And it is possible that they will just stay indefinitely, without ever officially calling the facilities 'permanent bases.'"
Hartung said that in the end, continuing with the Global Posture Review "is too close to the status quo to have any real strategic or diplomatic meaning. 'Staying the course' on bases makes no more sense than 'staying the course' in Iraq."