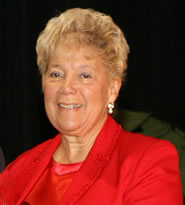 As expected, Queens Borough President Helen Marshall on Wednesday gave her conditional endorsement of the Bloomberg administration's plan to redevelop Willets Point, the 61-acre industrial area by Shea Stadium.
"There is no doubt that the existing businesses and people who work there provide valuable services and goods," she wrote. "However these activities are no longer compatible or appropriate to the progress of the communities and institutions that have grown around Willets Point."
Her endorsement [PDF] comes as part of the city's seven-month public approval process for a rezoning of the area, which requires approval from the City Council by November. The local community board gave its conditional endorsement to the plan a month ago, though neither that nor Ms. Marshall's endorsement is binding.
Responding to the endorsement, the main landowners' group in Willets Point put out a press release denouncing the move and announcing that two new members joined their organization, the Willets Point Industry and Realty Association. The group's press release also included a statement from local Councilman Hiram Monserrate that criticized Ms. Marshall's endorsement.
Ms. Marshall called for 50 percent of the development's housing—the plan calls for up to 5,500 units total—to be below market rate, with 30 percent for middle income and 20 percent for low income. The city has said it intends to require 20 percent of the apartments to be below market rate, a number that will likely increase in negotiations with the Council.