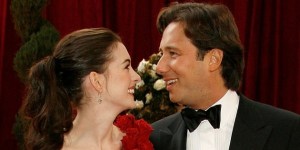 After getting arrested for wire fraud conspiracy and operating a money laundering scheme, real estate developer–and ex of Anne Hathaway–Raffaello Follieri might make a deal with prosecutors, reports the Post.
Mr. Follieri, whose bail was set at $21 million because prosecutors argued that he was at flight risk, has been locked up since his arrest on June 24th.
"Follieri is in plea discussions," said Assistant US attorney Jennifer Burns.
But Mr. Follieri's lawyer, Flora Edwards, seemed to be unaware of such dealings. "I'm certainly not saying that, and I'm not sure it's appropriate," she said about the possibility of a deal. "As far as I'm concerned, we're looking forward to our day in court."
Reed Brodsky, Assistant U.S. Attorney, estimated that Mr. Follieri could face up to nine years in prison if a jury convicts him of the charges. If he makes a deal and pleads guilty, his sentence could be reduced to as little as 5 years.