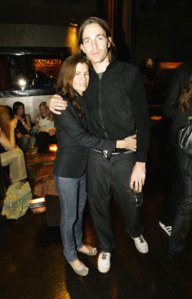 It's been about seven years since David Neville founded Rag & Bone with a friend from English boarding school, but their pristine $480 split back swing dresses, $215 western shirts, $505 hooded capes and matching $215 tailored leggings are the kinds of things that get designers very far very quickly in this town.
Mr. Neville and his wife, the star makeup artist Gucci Westman, just bought a duplex penthouse loft at the Spears Building, a former warehouse on West 22nd Street. According to city records, they paid $4.426 million.
"We're so excited to get in there," Mr. Neville said. "My wife, she's definitely pretty good with interiors and color; that's what she does."
The place is appropriate for a man who was pictured in Vogue this February frozen in midair next to Kate Bosworth after a posed jump in the Little Italy hipster lounge GoldBar: There's an espresso maker in the kitchen downstairs, and a skylight and wood-burning fireplace in the 21.5-by-23-foot living room around the corner.
A hammered steel staircase takes you upstairs to a separate outdoor dining area and a "lounge area" off the master bedroom, plus a private garden off the master suite's bathroom (which has Turkish marble, a sunken Jacuzzi soaking tub and something riveting called a "steam/rain shower"). Maybe the custom bathroom cabinetry will get the 36-product, $18,000 vanity case Ms. Westman designed last year, before she was named Revlon's global artistic director.
Elliman had the listing, and Corcoran's Robby Browne brought the buyers. 
mabelson@observer.com