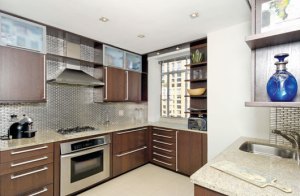 It took 18 months for Abraham Pustilnik to renovate his three-bedroom, Canadian-maple-floored apartment in the Century, that twin-towered 1930s Art Deco condominium on Central Park West, which is exactly how long a two-borough undercover investigation dubbed "Operation Old School" lasted before Mr. Pustilnik, his mother, his wife and 12 others were indicted for insurance fraud and grand larceny.
He and his mom, who led an enterprise of illegal New York health clinics and a billing company that filed a decade's worth of bogus claims with over 60 insurance companies, had to pay $4 million after pleading guilty to corruption charges. But they'll be all right: That Central Park West apartment has sold for $5.15 million, according to city records.
The condo has 15 windows, a two-zone air-conditioning and humidification system, an entry foyer "comprised of Jerusalem Gold Limestone," a master bathroom with an oversize steam shower, a kitchen with Italian porcelain floors, and, of course, an apartment video security system, according to the listing with Brown Harris Stevens' John Burger, one of the city's top brokers.
"I had no idea. I had absolutely no idea. Complete news to me," said Mr. Burger, reached on vacation at a beach in Southampton, when told about the Pustilniks' scheme. "These are not people I know well."
He said he looks up his clients on Google only when he's dealing with co-ops, where boards can be strict. And besides: "They couldn't be a nicer couple," he said. "What can I say? I'm shocked. That's just the weirdest thing I've heard."
The family, who was also reportedly under investigation for ties to Russian organized crime, spent most of their clinics' revenue on cars, a Catskills house, and the Central Park West condo. They did meticulous work on the apartment, too, Mr. Burger said.
According to records, the apartment was bought by New York Rangers center Chris Drury, a former rookie of the year, nicknamed Captain Clutch.
The phone at the Pustilniks' apartment has been disconnected; calls to their Catskills house were not answered; and Mr. Burger said the couple had no comment. According to deeds, Mr. Pustilnik, his wife and his mother still own a million-dollar Brooklyn condo, bought in 2003.
A spokesperson for the Manhattan district attorney's office said cases against all three are still pending, and a court date is set for September.
mabelson@observer.com