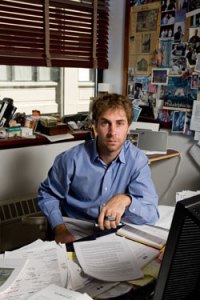 During a June 18 appearance on CNBC's Squawk Box, Steven Roth, New York real estate kingpin and the chairman and CEO of Vornado Realty Trust, suggested that a President Barack Obama could lead the United States out of its economic imbroglio.
"President Obama comes in, O.K.—that's not a political prediction by the way, this is just a fantasy—and somehow or other, he does what he says he was going to do. He gets us out of the war," began Mr. Roth in his heavily inflected New Yorkese.
In Mr. Roth's imagined course of events—related to a deeply skeptical roundtable of pundits—the future president would use the billions of dollars that aren't wasted overseas, coupled with increased tax revenues, to pay down the deficit. Then, "interest rates start to go down, the dollar starts to go up, commodities [and] oil start to tip over, the stock market doubles. Congratulations." President Obama saves the day.
Does Mr. Roth really believe that, or was it merely whimsy? We can't know for sure because Mr. Roth won't tell us. But federal campaign finance records indicate that he has yet to contribute a dime to the Obama campaign. Even more confounding, a month before his apparently pro-Obama comments, Mr. Roth donated $2,300 to the Illinois senator's rival, Arizona Republican John McCain.
Mr. Roth's seemingly conflicted view of the presidential race is not unique in New York City, rife as it is with torn identities. As developer Jed Walentas pointed out, real estate bigwigs are wealthy (Republican), often Jewish (Democratic), city dwellers (Democratic), pro-business (Republican), socially liberal (Democratic). … What's a dear tycoon to do?
Mr. Walentas himself is divided, though he does seem to be leaning McCain-ward.
"From a policy standpoint, not that I agree with everything he thinks, I generally have more in common with John McCain's policies," he said, pointing to smaller government, lower taxes and free trade. "I think with Obama there's more risk, and more potential upside in having a fresh approach and energizing a part of the country that generally feels disenfranchised."
Steven Spinola, president of the Real Estate Board of New York, said he expected his organization's members to be similarly divided.
"I wouldn't be surprised to see donations to more than one candidate by individuals, simply because neither one has, I think, a terrible message for the industry," he said. "It's based on whether they're driven by pocketbook issues or social issues."
And what are these pocketbook issues? Well, the real estate industry isn't particularly fond of higher capital gains taxes and would be loath to see anything happen to its coveted 1031 tax deferral, which allows building sellers to postpone paying capital gains taxes if they reinvest the revenue into other property.
But perhaps what's most striking about the real estate industry's behavior in 2008 is its utter lack of political activity. In marked contrast to 2007, when New Yorkers had two hometown heroes running for the nation's highest office, donations have dried up.
There are a few exceptions—the organic-farming landlord Douglas Durst recently donated $1,000 to Obama; dynasties the LeFraks and the Trumps have this year shown consistent support for McCain (both families declined to comment). But they're outweighed by the silent majority of 2008, which has sat on the sidelines, its closed wallet planted firmly underneath its ambivalent behind, donating nary a penny to either the Obama or the McCain camp.
That majority includes SL Green's chairman, Stephen Green; the Olnick family; Related's chairman and CEO, Stephen Ross, and president, Jeff Blau; Jack and William Rudin; Tishman Speyer's Jerry and Rob Speyer and Robert Tishman; Brookfield Properties' president and CEO, Ric Clark; Boston Properties' CEO and director, Edward Linde; Extell Development's president, Gary Barnett; Harry and Billy Macklowe; Larry Silverstein; Bruce Ratner; Sheldon Solow; and, aside from one bizarre $2,300 donation to Mike Huckabee in January, Arthur and William Zeckendorf.
That may soon change. The Obama campaign is making a serious effort to reach out to the industry. On June 27, Obama fund-raisers Hildy Kuryk and Bridget Siegel e-mailed an invite to what they called "important members of the New York real estate community" for a "lunch meeting with Obama Campaign Finance Chairwoman Penny Pritzker on Tuesday, July 1st at 12PM hosted by Jeff Gural."
Mr. Roth, Mr. Durst, developer Donald Capoccia and Bill Rudin were among the roughly 30 who attended, according to sources.
Mr. Gural, the chairman of Newmark Knight Frank, is not undecided. A onetime Hillary supporter, he's now squarely in the Obama camp, and if he had his way, the rest of New York real estate would join him.
"I guess you could argue that wealthy people like myself are better off with Republicans in power," Mr. Gural said. "But right now, the middle class is suffering, and I think Obama is someone who has the energy and hopefully a different approach than we've seen from the Republican party over the past seven and a half years.
"I don't know any of my friends who have their children over there [at war]," Mr. Gural continued. "Those of us who are wealthy could at least step up to the plate and ask to pay for the war, since the other people are sending children and husbands and wives to fight."
drubinstein@observer.com