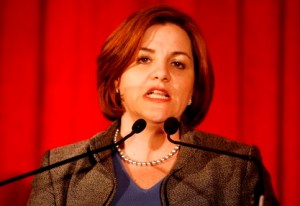 Fundraising may have gone slower than before for City Council Speaker Christine Quinn lately amid the discretionary spending imbroglio, but she still hauled in a fair hunk of cash–more than $620,000–in the past six months, according to her campaign filing.
Of that amount, the bulk–$410,0000–came in the three months since the Post first revealed the Council's so-called "slush fund," which in turn led to day after day of headlines questioning various appropriations made by Council members.
A look at her intermediaries (known as bundlers) doing much of the fundraising suggests the traditional source: the real estate industry is still hard at work.
Some of the larger intermediaries in the latest filing:
Daryl Roth, wife of Vornado Realty Trust CEO Steve Roth and a successful Broadway producer, was listed as an intermediary for $91,850. Mr. Roth is one of two developers pushing Moynihan Station, the redo of Penn Station, which would open up millions of square feet of development rights. Ms. Roth said the fundraiser, held with her husband, was not related to Vornado, and the couple are "very fond" of Ms. Quinn.
Veronica Hackett, co-founder of the Clarett Group, a development firm, was listed as bringing in $14,650.
Francis Greenburger, chairman of Time Equities, a real estate company, was listed as intermediary for $13,625.
Caryn Eyring, listed as affiliated with Taconic Investment Partners, the major landholder in the area outside the main Coney Island amusement district, had $32,750 attached to her in the filing