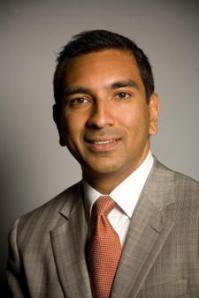 The Related Companies has boosted the title (and workload, presumably) of Vishaan Chakrabarti, project manager for the Related Companies and Vornado Realty Trust on Moynihan Station.
Mr. Chakrabarti, formerly a senior vice president, has been named Executive Vice President of Design and Planning. He will continue to lead the Moynihan Station effort, according to a Related spokeswoman.
Mr. Chakrabarti will also help out on the company's $15 billion plan to build over the West Side rail yards. His assistance there is surely valuable, given that he had a strong hand in writing the zoning code for the area. Before Related, he headed the Department of City Planning's Manhattan office and helped create and seek approval for a complex rezoning of the area (which also extends to Penn Station, where the company wants to unlock development rights connected to transportation improvements for the Moynihan Station project).
Before the city, he worked at design powerhouse Skidmore Owings & Merrill.