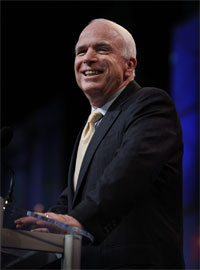 Last week presumptive Democratic presidential nominee Barack Obama contributed an op-ed to The New York Times headlined "My Plan for Iraq."
In it, Senator Obama wrote:
Unlike Senator John McCain, I opposed the war in Iraq before it began, and would end it as president. I believed it was a grave mistake to allow ourselves to be distracted from the fight against Al Qaeda and the Taliban by invading a country that posed no imminent threat and had nothing to do with the 9/11 attacks.
According to The Drudge Report, Mr. Obama's Republican rival, Senator John McCain, attempted to file a rebuttal but didn't make it past The Times editorial board. According to an email sent to McCain's staff from Times Op-Ed editor David Shipley, "'It would be terrific to have an article from Senator McCain that mirrors Senator Obama's piece… I'm not going to be able to accept this piece as currently written."
Matt Drudge goes on to quote Mr. Shipley as saying, "I'd be pleased, though, to look at another draft."
In 2005, Mr. Shipley wrote an opinion piece explaining what The Times' op-ed editors do:
What our editors expressly do not do is change a point of view. If you've written an article on why New York's street fairs should be abolished, we will not ask you to change your mind and endorse them. We're going to help you make the best case you can. If you followed this page carefully in the run-up to the Iraq war, for example, you saw arguments both for and against the invasion—all made with equal force.
Mr. McCain's op-ed, as written, appears on Mr. Drudge's site.
Update, 4:50PM:The New York Times sent the following statement about Senator McCain's Op-Ed:
New York Times
Statement re Op-Ed Submission from Senator McCain
It is standard procedure on our Op-Ed page, and that of other newspapers, to go back and forth with an author on his or her submission. We look forward to publishing Senator McCain's views in our paper just as we have in the past. We have published at least seven Op-Ed pieces by Senator McCain since 1996. The New York Times endorsed Senator McCain as the Republican candidate in the presidential primaries. We take his views very seriously.