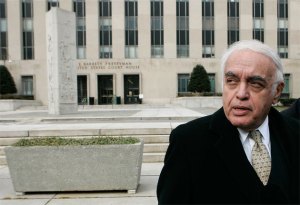 The Chicago Sun-Times is reporting that syndicated columnist Robert Novak has a brain tumor. The Sun-Times' Maureen O'Donnell quotes a release put out by Mr. Novak on Sunday that reads:
On Sunday, July 27, I was diagnosed with a brain tumor. I have been admitted to Brigham and Women's Hospital in Boston, where doctors will soon begin appropriate treatment.
I will be suspending my journalistic work for an indefinite but, God willing, not too lengthy period.
Mr. Novak was in the news last week for hitting a pedestrian with his car. According to The Washington Post, the pedestrian, an elderly homeless man named Don Clifford Liljenquist, is recovering.