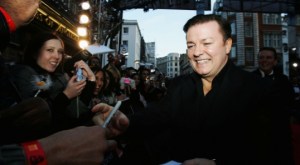 Russia is getting its own Office! BBC licensed the original British format to the country so they can adapt story lines and characters to its own cultural work-a-day malaise. The original series has been sold to more than 70 countries. Seventy! Ricky Gervais must be rich!
"Russia is an important territory for us," Ben Donald, BBC Worldwide's head of sales, told Variety.
How do you say "That's what she said" in Russian?