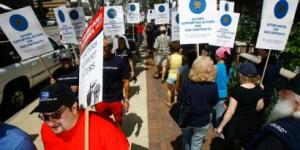 The Screen Actors Guild and the big studios continue their cat fight over contract deals through letters and statements.
The Screen Actors Guild sent out a memo yesterday outlining exactly why they rejected the Alliance of Motion Picture & Television Producers' final contract offer, citing stinginess in pay and union jurisdiction for online productions.
Doug Allen, the guild's executive director, wrote in a letter to S.A.G. members that the offer would allow nonunion actors into "almost all new media productions for the foreseeable future," according to the Associated Press. He also claimed the offer left out residual fees paid to actors for content that is made specifically for the internet.
"A program originally made for ABC.com could be available for re-viewing on ABC.com … as often as possible and forever with no residuals," Mr. Allen wrote. "The stakes are too high to concede."
The Associated Press has more:
The Alliance of Motion Picture and Television Producers fought back with a statement saying they've been making major advancements for the guild, offering to mandate union coverage for online productions that cost less than $15,000 per minute, but only if producers use a union actor.
They also offered residual payments for Internet-only shows that are rebroadcast on pay platforms like iTunes, theatrically or on television. Paid downloads of movies would trigger double the residual rate actors now receive from DVDs.
"Not a single one of these rights exists under the contract that expired on June 30 — a contract that SAG members now must work under because of the failure of SAG negotiators to make a deal," acccording to the statement.