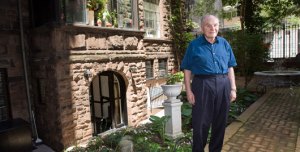 A marvelously polymathic family who lives in perhaps the oldest private home on the Upper West Side plans to sell the property and use the proceeds to create a foundation named after a microbe.
Said microbe, Ochromonas danica, traditionally inhabits Danish bogs, and sometimes the odd laboratory, like the one where landlord Thomas Haines, 74, encountered it back when he was a Ph.D. candidate at Rutgers University. He lovingly calls it a "freak" of an organism, one whose unusual flagellar membrane so sparked his fascination with lipid membranes that he named his dog Danica, his daughter Avril Danica Haines and his property holding company Danica Realty. Now, he plans to call his charitable foundation, which he recently registered with the I.R.S., the Danica Foundation.
This foundation will get its seed money from the sale of Dr. Haines' townhouses at 12 and 14 West 68th Street, built in 1922 and 1875 respectively, their combined worth an estimated $22 million, according to the family's broker, Paul Smadbeck, senior director of sales at Massey Knakal.
The property is as delightfully unusual as its owners. Mr. Smadbeck called it "probably the most unique property I've ever been involved with in 24 years in real estate." The two partially conjoined buildings stretch 55 feet wide and share a wrought iron gate bounding a garden, which is centered around a cobblestone fountain. "From what we can gather, it was originally constructed as a country mansion," Mr. Smadbeck said. "It was built prior to the Dakota, prior to pretty much any other structure in the area."
Mr. Smadbeck is marketing the buildings, which house 19 luxury apartments—all rentals, except the one Dr. Haines and his wife, Polly Cleveland, occupy—as a home for a consulate, a school, a nonprofit or a family.
The sale will allow Drs. Haines and Cleveland, an economist and Columbia University professor, to focus on academics, and, of course, on the foundation. The couple and their daughter, a high-ranking attorney with the U.S. Senate Committee on Foreign Relations, will comprise the board of the foundation, which will have an appropriately diverse mission, focusing on international relations, science and economics.
Dr. Haines' history with the property dates back to 1965, when he and his late wife, Adrienne, an artist, put down $10,000 and paid a mere $140,000 so that she could have a studio filled with light near the Madison Avenue art galleries. This was back when the Upper West Side was seedy and Laurance Rockefeller had yet to erect nearby Lincoln Center. Dr. Haines went on to help found the CUNY Medical School and serve as the chair of its biochemistry department. He later married Dr. Cleveland, an economist specializing in the philosophy of Henry George. Dr. Haines works as an adjunct faculty member at the Rockefeller University.
The cerebral and apparently liberal pair—they've advocated for drug policy reform and marched with Billionaires for Bush at the 2004 Republican Convention—plan on transitioning into the responsibility-free life of the renter. At least for the time being.
As Dr. Haines explained, "It might not be the best time to buy an apartment, in our cautious view of the world, and watching what we see on the financial news."
drubinstein@observer.com