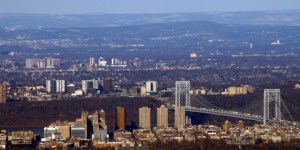 The New York Times' Metro report will write more about food and sex than ever and it will write less about New Jersey than it has in years. This news officially comes in response to a reader's inquiry to Metro editor Joe Sexton: "Do you cover Jersey anymore?" Sexton's response in today's nytimes.com Q &A: "Ouch. But Jersey? Love Jersey."
After explaining that the Times' stellar local reporter David Kocieniewski would stay on the Jersey beat—presumably when Mr. Sexton isn't busy assigning him to investigative pieces on Charlie Rangel's real-estate ownership—he lays out Metro's future "pledge" to Jersey, Connecticut, Westchester and Long Island now that the bureaus have been emptied out.
We are going to concentrate more on New York City. But our pledge to the readers in the region is as follows:
• when major news breaks out, we will run to it, in numbers and for the long haul when warranted.
• our beat reporters — on immigration or the environment or education — will regularly look for important stories unfolding in the region.
• when we dream up our major project work for any given year, we will be open to envisioning even our most ambitious efforts being focused on issues in New Jersey, Connecticut, Long Island, etc.
• and Peter Applebome's "Our Towns" column — a twice weekly mix of poetry and powerful insight — isn't going anywhere.