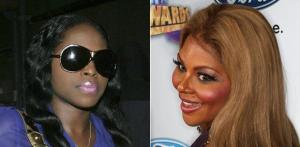 The AP reported this morning that Simon & Schuster is suing rappers Foxy Brown and Lil' Kim, both of whom were under contract with the publishing house for books that were due several years ago. The deals were done separately: Foxy Brown got $75,000 in 2005 for what was supposed to be a memoir, and Lil' Kim got $40,000 in 2003 for what was supposed to be a novel.
According to Simon & Schuster's corporate spokesman Adam Rothberg, the lawsuits were not filed simultaneously for any particular reason.
"They're just two cancel-and-collects that happened at the same time," he said, adding that in both cases, Simon & Schuster had just "exhausted all other avenues on recouping the money on a manuscript that wasn't delivered."
"We're suing people who didn't deliver on manuscripts that we contracted with them for," he said. "That's the bottom line. End of story. Any issue of timing is simply coincidence."
David Vigliano, who sold Lil' Kim's book, did not immediately respond to a request for comment, and Mark Gerald, who sold Foxy Brown's, declined to comment.