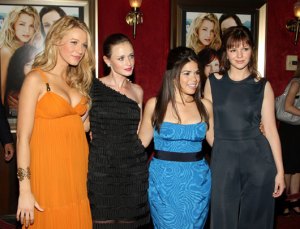 On Monday, July 28, the 20-year-old actress Blake Lively attended a premiere not for the upcoming season of Gossip Girl (currently filming all over town, including at the Packer Collegiate Institute in Brooklyn Heights), but for a film with a decidedly less sophisticated audience: The Sisterhood of the Traveling Pants 2, the sequel to the first megahit from teen novel assembly line forewoman Ann Brashares.
Just as her co-star, America Ferrera, was hardly a household name before Ugly Betty, Ms. Lively was relatively unknown before the CW network made her famous—a fact not lost on her Sisterhood co-stars.
"I think they're milking this whole Gossip Girl craze," said Michael Rady, who plays former Gilmore Girls star Alexis Bledel's love interest in the original Sisterhood and the sequel. "I saw a Sisterhood promo the other day and it said 'The Gossip is …'
"It's pretty shameless!"
On the red carpet, the rest of the film's supporting cast had to field questions from the press about Ms. Lively's personal life.
Did she bring her dog onto the set? Yes, sometimes. Did she bring her boyfriend and Gossip Girl co-star Penn Badgley? No, she was dating someone else during the filming of Sisterhood. What's she like? "Wonderful," "funny," "down to earth," "lovely" and "lively like her name." Someone get this girl a gold star!
Ms. Lively arrived in a bright tangerine maxi-dress with her father, actor Ernie Lively, who also plays her dad in the film. Joining her on the red carpet were Gossip Girl's Chace Crawford, Ed Westwick, Leighton Meester and Matthew Settle (a.k.a. emo-hunk dad Rufus Humphrey), though Mr. Badgley took the back entrance.
"The only thing that has changed is that Blake and I are always working and we never get to see each other even if we're filming around the corner from each other," Ms. Ferrera told the Transom. "So we're just busier, that's all."
"One day the girls were on mopeds and they collided, and I think Blake hurt her ankle," said Rebekah Aramini, who plays Ms. Bledel's mother. "And there was this donkey that basically carried her up the mountain to the next scene. She's a celebrity, but I saw her riding a donkey up a hill!" Oh no you di-in't!