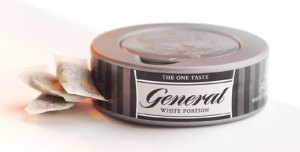 On a recent Friday evening, two New York City gentlemen in their 20s were sitting at Vol de Nuit, a Belgian beer bar in the West Village. After some conversation, they removed a couple of small, tea-bag-like packets stuffed with tobacco out of a circular black plastic container the size of a hockey puck and, between sips of Pilsner, placed them inside their respective upper lips.
First came the burning sensation, followed by a slightly unpleasant taste, and then, the nicotine buzz.
"It combines the cleanliness of not smoking with the pleasure of tobacco," said one of the men, who wished only to be identified by his first name, Lucas, of the substance, a product imported from Sweden called "snus" (rhymes with "loose"). "It's like a secret. Nobody really has to know you're doing it."
In a city where the act of lighting up in a bar or restaurant increasingly seems a part of ancient history, where smokers now huddle in angry little knots under scaffolding, shunned by polite society, could snus be the up-and-coming vice of choice?
"We sell out of them like candy—it's very popular," said Mario Chebly, manager of the smoke shop Shisha International on West Fourth Street, of packages of snus, which retail for a recession-friendly $5 apiece (some stores are now pricing cigarettes at $10 per pack). It was a little after 2 p.m. on a Sunday afternoon, and Mr. Chebly was standing beside a refrigerated display case of General brand snus, flanked by shelves of Marlboros and Dunhills. He'd sold 14 containers of the moist oral tobacco to "nice, good-looking, professional people" since opening at around 11 that morning.
General, also found in the upscale cigar chain Barclay Rex, is owned by the smokeless tobacco giant Swedish Match, based in Stockholm; snus is immensely popular in Scandinavia. In May, Camel started test-marketing its own brand—considered by some snus enthusiasts to be somewhat less appetizing, maybe even a bit lowbrow—in New York bars like the Library in the East Village and Greenpoint's Studio B.
"We're pleased with the results," said David Howard, a spokesman for Camel's parent brand, R. J. Reynolds Tobacco Company.
The use of snus brings a certain class, if that's possible, to this consumer category. It's quite discreet, and unlike the chewing tobacco or dip favored by baseball players, doesn't require spitting. And while snus tins do come with the requisite warnings of mouth cancer, gum disease and—yikes!—tooth loss, for some nicotine addicts, it seems like a slightly healthier alternative to hacking up a lung each morning, or smelling like they just bathed in an ashtray.
Then there's the snob appeal. "People here, they trust everything from Europe," Mr. Chebly remarked. The fact that the European Union banned the sale of snus for public-health reasons in 1992 (Sweden was granted a waiver) might also add to the mystique. And so much history! During the 18th century, dry nasal snuff, carried not in plastic but "small masterpieces of gold, silver or other precious material," according to the Swedish Match Web site, was a standard trapping of the European aristocracy. It fell out of favor with the upper classes during the French Revolution, but in the 1800s, Swedish farmers began tucking it under their lips while they worked. Presto: snus.
Presumably, it is enthralling the same New Yorkers lured by the city's hookah bars, old-worldish neo-speakeasies and newly popular absinthe cocktail hours. Maybe at some point snus will even replace the hipster's Camel Lights.
Or maybe not.
"When I first showed up with it, it was met with disgust," said Mike Magill, a 29-year-old acoustical engineer who in 2004 moved to Sweden, where he discovered snuff and snus, in an e-mail. He said snus still seemed to have a stigma attached to it given its unfortunate association with chew and dip. "I don't know if upscale East Coasters are willing to accept a product that so closely resembles a typically poor and Southern substance."
According to Barclay Rex's owner, Vince Nastri, however, snus "has already caught on." His Financial District location sells about 70 tins each week.
"It's a new product here," Mr. Nastri said, "and people are curious."
jpompeo@observer.com