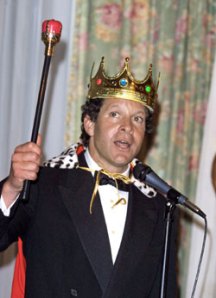 My editors told me I was crazy. Nuts. As in meshugge. After writing a column two weeks ago about the actor Steve Guttenberg's move to New York and his hopes for finding true love—a column which they'd O.K.'d under protest—I went back to them last week and announced that it was absolutely essential that I go back to the Goot, as Mr. Guttenberg sometimes calls himself, for more. The original column, I pointed out, had received more than 170 comments on our Web site; Drudge had linked to it; some TV suits had contacted Mr. Guttenberg about a reality show. Clearly, there was an untapped wellspring of American passion for this wonderful actor; in the decades since he first sprang into the national consciousness in the Police Academy movies, he'd remained a lightning rod. They shook their gray heads and cursed me.
I e-mailed the Goot; he was game.
He suggested we meet in front of Van Gogh's Starry Night at the Museum of Modern Art, explaining that he likes to visit the museum at least once a week, and thinks of each encounter with a painting as "a human encounter with a great artist, a great man."
It turned out the painting was on loan, so we looked at Warhol's Campbell's Soup Cans instead. A pretty girl walked by. The Goot followed her with his eyes, his neck, his upper torso. He was wearing a Jones Beach T-shirt, Levi's and some clunky running shoes.
"You know," he said, "what actors are, are living pieces of art, and that's what the museum gives me, too. You being on that screen, you're a piece of art hanging on a wall!
"That's why I like being really nice to people—they're not seeing me," he said, referring to fans who approach him. "They're seeing a piece of art that they can't believe came to life."
Mr. Guttenberg wanted to have lunch at Café des Artistes—that sounded swell to me, and I knew my editors would understand the big expense tab.
Café des Artistes was closed, so we had Mexican. I asked him why he thought the first article I wrote about him received such a strong response. "It hit a bone," he said. "I think people were just astounded by the frank talk of the opposite sex. Which of course is a big part of the journey. Women are a magical part of life. And so many men have said to me, 'I think about women that way, too!'"
Our conversation turned to the National Enquirer's report that former presidential contender John Edwards had been sandbagged with a floozy in a hotel.
"You know, the sexual drive is the oldest drive," Mr. Guttenberg said, shaking his head. "It's the strongest drive and we—as men—need to control that drive. We have to civilize ourselves."
In our first interview, Mr. Guttenberg had said he'd dated 600 women. (The day the article appeared, he received an e-mail from a woman that read, "Let's make it 601. Call me for a drink.") Now he thinks it's more like 300. He figures the math this way: He's 49 years old, and he's been a name in Hollywood for 30 years. Well, he was married for five of those years, to the model Denise Bixler, and he was in serious relationships for another 10, so that leaves 15 years, and during that time he figures he dated two different girls a month.
Returning to Mr. Edwards, he said, "What the hell was he thinking?" He went on to make a solid case against using the service entrance; it's where the paparazzi always lurk. He then admitted he uses it, abut no one cares who the Goot is shtupping.
"I'm not going to throw stones. Because I live in a glass house—well, hello!" he said as the waitress approached, giving her a once-over. He said he makes a point to be kind to everyone in the service business. On the walk over, he'd shouted hearty greetings to several doormen, some of whom seemed perplexed.
I asked him which actors he resonated with. "I see myself as a cross between Gene Hackman and Van Johnson," he said, referring to the genial 1950s leading man who starred in The Caine Mutiny and Brigadoon. "If I was going to aspire to a career, it would be Michael Caine and Gene Hackman, maybe a little Bill Bixby thrown in—to be able to work forever and lead a nice life, that'd be great."
He ordered the Mexican Tuna salad. He'd eaten nothing but hot dogs over the weekend on Fire Island, where he'd been given the Fire Island Golden Wagon Film Festival's lifetime achievement award. The organizers had provided a nice house and a golf cart. When the ferry arrived, there was a big sign: "Welcome Steve Guttenberg."