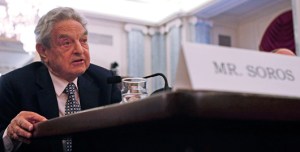 Liberal billionaire George Soros and members of his family have contributed a little more than $1 million into state campaign coffers since 2000, with nearly all of it going to help Democrats in the State Senate.
Already this year, George, his son Robert, Robert's wife, Melissa, and another son, Jonathan, contributed $199,500. George, Robert and Melissa each gave $25,000 to the New York State Democratic Party and gave the maximum allowable personal contributions – $9,500 – to Eric Schneiderman, David Valesky, Craig Johnson and Joe Addabbo.
(Two other members of the Soros family also contributed this year. Son Jonathan gave $9,500 to Democratic State Senate candidate Rick Dollinger and his wife, Jennifer, gave $1,000 to a pro-abortion rights lobbying PAC that donated to Johnson and Dollinger.)
The Soros family — and George in particular — is a massive financial force in liberal politics. And while the name may mean little to the average voter, it always seems to trigger strangely intense — and divergent — reactions among Democrats and Republicans.
"It's really an honor to have that," said Bill Samuels, chairman of the New York State Democratic Campaign Committee. "I don't think you can say specifically George. It's the family."
"It's not surprising," Republican consultant Roger Stone, who formerly worked for the Republican Senate majority, said of Soros contributions. "The Senate Democrats have put forward a radical, far-left agenda. Gay marriage is their first pledge: pretty extreme." When asked if he thought the Soros family could have an impact in the races, Stone said, "Depending how big his checks are."
"George Soros is a die-hard Democrat," said Diane Savino, a Democratic state senator whose received contributions from George Soros back in 2004. "You've seen him demonstrate that commitment on a national level and a local level."
Since 2000, the Soros family contributed $1,096,073.27.
Most of the money came from George, who contributed $441,000; his second wife, Susan, gave $26,000; one son, Robert, contributed $279,223.27; Robert's wife Melissa contributed $198,000; son Jonathan contributed $113,750; his wife, Jennifer, gave $4,000.
Savino said the Soros family became more interested in helping the Democrats take over the State Senate primarily through a relationship that developed around 2004 with Schneiderman, a Democratic State Senator. Schneiderman declined to speak publicly about the Soros, but did say he was grateful for their support and looked forward to more of it in the future.
The Senate contributions from the family follow that timeline. Between 2000 and 2003, George Soros and his family contributed a total of $212,850, to state campaign accounts, with $125,000 going to a single lobbying group looking to change the state's drug sentencing law. The rest of the money went to supporting legislative candidates in Manhattan, Queens and Long Island, all of whom lost.
Then after that poor showing in the 2002 races, the Democratic Senate leader at the time, Marty Connor, was ousted in a coup, and replaced by David Paterson. The first Senate races under Paterson's leadership came in 2004, and that year saw an influx of Soros contributions.
Within a five-month span in 2004, the Soros family contributed $252,500 to Democrats in the State Senate.
Not that George Soros is the only billionaire to have taken a stake in the outcome of the Senate elections.
"Rich people have the right to influence politics through campaign finance system, like everybody else," said Savino. "The mayor does it. Tom Golisano is doing it right now. Rent stabilization supporters do it. That's the system that's in place now."
Soros has clearly thrown his lot in with the Senate Democrats. Billionaire New York City Mayor Michael Bloomberg has written a $500,000 check to Senate Republicans, and spoken publicly about the benefits of having Republicans maintain their control of that house.
A third billionaire, Tom Golisano, waved a $5 million check in front of reporters in Albany earlier this month, pledging to support Democrats and Republicans in the hopes of, basically, creating a Golisano caucus within whichever party controls that house.
Samuels, the chairman of the New York State Democratic Campaign Committee, said that by comparison, the Soros' involvement is dwarfed by Golisano's, who laid out eight financial and good-government changes he'd like to see in Albany.
"Golisano is talking about five million bucks," said Samuels, "The Soros family hasn't done anything close to that. We love what they've done, but we haven't seen pronouncements like that."
And we may not see any, either. Michael Vachon, a spokesman and political adviser to George Soros, said they have been trying to create a Democratic majority in the State Senate, but he said involving other political groups funded by the Soros, like America Coming Together, was "very unlikely." Vachon declined to comment on Golisano and Bloomberg's contributions.