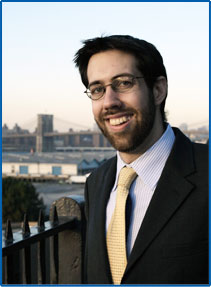 On the surface, the story is a familiar one.
A young insurgent, Dan Squadron, decides to challenge an entrenched incumbent, Marty Connor, in a State Senate race, in a year when public antipathy towards the ossified ways of Albany is greater than it has been in recent memory. The line between underdog liberal reformer and entrenched proponent of the status quo should be clear.
But a couple of unusual things have happened. Squadron, 28, has acquired the trappings, at least, of the establishment guy. He has raced out to a lead in high-increment fund-raising — he has spent heavily but still has nearly $300,000 on hand, whereas Connor has barely spent $2500 and has only $83,000 — and has gained support from some powerful labor entities like UNITE HERE, the Communication Workers of America and the union-backed Working Families Party. And, perhaps most crucially, he has the backing of his mentor and former boss, Chuck Schumer.
And Connor, who is 63 and was first elected to the Senate in 1978, has been to cast himself, credibly if improbably, as a scrappy underdog.
Meanwhile, some liberal party stalwarts – the Independent Neighborhood Democrats in Brooklyn, and Manhattan's Village Reform Democatic Club and Stonewall Democrats, for example — have only made the picture murkier, passing on Squadron, the self-described candidate of reform, to stay with the old guy.
The division has been illustrated neatly on Daily Gotham, a group blog written mainly by Kos-style progressives. Activist Michael Bouldin, in a blog post, wrote that Squadron is "the first ripple of a wave of new fresh faces who are suddenly considering public service."
Another contributor, Dan Jacoby, disagreed, writing that Squadron "smacked of the kind of phony politics that we despise."
Interestingly, given the strong feelings on both sides, the candidates' differences when it comes to ideology and actual policy positions seems to be very slight. In effort to position himself as the more progressive of the candidates in a liberal district that includes Lower Manhattan and Brownstone Brooklyn, Squadron has attacked Connor for the timing of his vote on "luxury decontrol" laws. Connor, also seeking to be the progressive candidate, has attacked Squadron for the timing of his support for Michael Bloomberg's congestion pricing plan. There are no big issues in this race, in other words — the disagreements have been about style, process and personality.
Consultant Joe Mercurio says the distinction in this race is easy to miss. "Guys like that running against each other is like in the old days when people were arguing whether an [election district] was conservative or liberal" based on whether or not George McGovern carried it in the 1972 Democratic presidential primary.
And as Jerry Skurnik, a consultant not working with either campaign, notes, either one of them would be considered solidly in the liberal category "in the construct of the whole country and the whole state."
In an interview, Squadron, who was a special assistant to Schumer and co-wrote the Senator's recent book "Positively American," made the comparative case as follows: "In this race, in this district, at this moment in New York State, being progressive is not about checking boxes. It's about being willing to go to Albany and being willing to fight aggressively, the way the Working Families Party fights aggressively, the way that Chuck Schumer fights on his issues aggressively." He went on to say, "[Connor has] had thirty years to do it and I don't think he's stepped up."
Connor and his supporters, meanwhile, cast Squadron as an unproven, phony liberal, based on everything from his proud association with Schumer to his choice of extracurricular activities at college.
"I said to him the other day, 'How dare you come in here and say you're progressive?,'" said gay rights activist Allen Roskoff, recalling an outburst he recently directed at Squadron when the candidate appeared at the Stonewall Democrats club meeting. Roskoff, who has worked for Connor and the Senate Democrats, questions Squadron's liberal credentials partly because of Squadron's close association with Schumer, who occasionally rubs liberal activists the wrong way doing things like, for example, voting for the Defense of Marriage Act, and recruiting a pro-life Democrat to run for Senate in Pennsylvania.
Chad Marlow, Connor's campaign spokesman, attacked Squadron (and Squadron's spokesman, who Marlow referred to as a campaign manager) more directly. "He went to Yale. He wasn't particularly active. Him, and the guy who is his campaign manager, they didn't start 'New Democrats for Yale,' they started the Yale Outdoor Drama Association."
Squadron, when told of Marlow's critique, laughed. Typical Connor campaign tactics, he said.