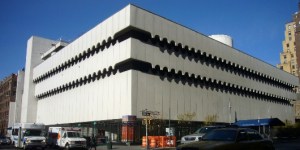 St. Vincent's public affairs office gave us a call about our post on the Landmarks Preservation Commission's meeting Tuesday on the hospital's hardship application to demolish the O'Toole building and construct a new, "state-of-the-art" medical facility in its place.
Dr. George Neuman, the interim chief medical officer at St. Vincent Catholic Medical Center, said that "support for the new hospital among the doctors and nurses, maintenance and ancillary staff is universal."
"The people here want to see a new hospital built," he said. "When you think about it, who wouldn't want to work in a new building?"
Dr. Neuman said some nurses—one of the critics we spoke with Tuesday worked for the operating division—are using the controversy over the O'Toole building as leverage in negotiations over new contracts.
To clarify, in addition to three nurses, we also spoke with a cafeteria worker and an employee from the Environmental Department who opposed the plan for a new hospital.
A lab technician and two union representatives were enthusiastic, while an administrator told us she supports the construction of a new hospital, but said "they might be being a little overzealous about tearing down O'Toole."
Dr. Neuman said St. Vincent's medical staff has increased over the last three or four years, contrary to what one employee told us, and the hospital currently has 1,000 doctors on staff and about "20 or 30 administrators."
If the LPC approves St. Vincent's hardship application, the center expects to get full City Planning approval late next year (at the earliest), in which case demolition would start in 2010. If all goes well, a new hospital could be built by 2014.