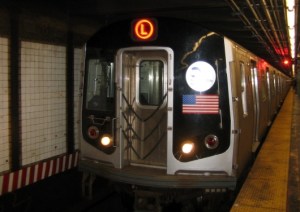 The Straphangers Campaign today issued its 11th annual "State of the Subways" Report card, rating the L as the best of 22 subway lines, followed by the 7. Both of these lines are participating in a management pilot program and are run by Line General Managers who have been given a greater degree of independence, as well as accountability to the riders on these two lines.
"The L ranked highest because it performs best in the system on two measures—regularity of service and announcements—and well above average on three other measures: frequency of scheduled service, delays caused by mechanical breakdowns and the percentage of dirty cars," a statement released today by Straphangers said.
"The line did not get a higher rating because it performed well below average on: a chance of getting a seat during rush hour."
The 7 line came in second place with above average ratings in all categories except for the percentage of dirty cars and adequate announcements.
The Q train rounded out the top three, followed by last year's top-rated line, the 1 and then the 6. The J/Z, 5, 2, 3, and 4 also ranked in the top 10.
At the bottom of the list is the W, which ranked below average in all measures of service except for the chance of getting a seat during rush hour. So basically, its such a bad train that no one rides it.
Overall, the state of the subway is not very good, according to the report's findings.
"Riders on the L and 7 are benefiting from more independent managers and more resources, but the subway system as a whole performs weakly," said Gene Russianoff, the Straphangers Campaign's senior attorney, in a statement. "Most troubling is the widespread increase in subway car breakdowns – on 17 of the 22 subway lines – which cause delays and inconvenience for hundreds of thousands of riders."