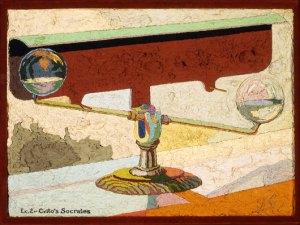 How will art history judge Burgess Collins (1923-2004), the artist better known as Jess? The new exhibition of his work at Tibor de Nagy Gallery won't tell you, but there's one thing for sure about Jess' current standing: He's nowhere—but, then again, that might stand as the most fitting tribute to an artist defined by his eccentricity.
You can cast about for influences. Jess' collages—or, as he dubbed them, "paste-ups"—recall the dreamlike incongruities of Surrealism and a little of Dadaism's choppy aggression. His fondness for mass media and his paintings based on found commercial illustrations (called the Translations) have led critics to compare his work to pop art. Or was Jess the West Coast Joseph Cornell? That's close: Both men traded in secret fixations, thrift shop materials, unnamable currents of feeling and Victorian longing. Yet Jess' work remains connected to a world the rest of us will recognize. More an independent than a loner, he was a self-described "sentimentalist."
The artist studied chemistry at the California Institute of Technology. Between 1943 and 1946, he served in the Army and worked on the Manhattan Project. But six months after he had a dream that in 1975 the world would be destroyed in a nuclear holocaust, Burgess Collins quit his job as a nuclear scientist, changed his name to Jess and enrolled in art school. In 1949, Jess began studying at the California School of Fine Arts in San Francisco (now the San Francisco Art Institute) with Clyfford Still, David Park and Hassel Smith. Mark Rothko and Ad Reinhardt were visiting artists during the same period, and Jess saw firsthand the paintings of Arshile Gorky and Jackson Pollock. In 1951, he met and later became partners with the poet Robert Duncan. The relationship lasted until Duncan's death 37 years later.
THE SHOW AT de Nagy skips lightly over the oeuvre, playing mix-and-match with chronology, making it difficult to get a handle on Jess' often frustratingly private idiom. Still, one can feel the peculiar force of his vision, marked by material compulsion and a consistent drive toward pictorial complication.
A Cryogenic Consideration; Or, Sounding One Horn of the Dilemma (Winter) (1980) is the exhibition's centerpiece: It's a representative (and perhaps definitive) example of the paste-ups. Enumerating the discrete collage elements would be a never-ending parlor game. Rembrandt's The Man With the Golden Helmet is the focal point, but just barely. After that, well, you're on your own: a Ferris wheel, gemstones, a scattering of dress shoes, a bullet shot through a row of apples, Buddha, and so it goes … and goes, coalescing, almost, into an Alpine landscape. But not for long: Images are swept away with elegant disregard.
Puzzles are a recurring ingredient. Xrysxrossanthemums (1978), with its gently mismatched pieces and air of domesticity, is made entirely of the parts of a jigsaw puzzle. In another piece, you'll discern political commentary: "Untied SState of CIA-MARE" is an acidic potshot—but Jess' cultural ramblings were mostly innocent, through fashion ads, Boy's Life magazine, comic books, National Geographic and art history reproductions. Botticelli, Winslow Homer, Goya's The Naked Maja, Aztec statuary—the bounty of world art was one of his passions.
Tender and prudish eroticism pervades his work. Hera Closing With Herakles (1960) includes a male classical sculpture whose genitalia are "censored" by a nude woman and the wing of a bird. Victorian mores dominate the grainy, chaste and silky reproductions of women in Quondam Quiddities (1982). But mostly, individual subjects are engulfed in dense accumulations of incident. Meaning in a work of art, Jess insisted, "occurs in the process of making it." In its own encyclopedic way, The Unentitled Graces (1978) is as even and all-over as prime Pollock.
Jess' finest works are the Translations, a series of downright bizarre paintings of, for example, an illustration from a vintage children's book, or a photo of the Beatles signed by John Lennon. Gobs of oil paint—sagging, wrinkled, approaching the thickness of relief sculpture, and not unlike wads of chewing gum—are placed on the canvas with paint-by-numbers meticulousness. Crito's Socrates: Translation #3 and Fionn's Finnegas: Translation #4 (both 1964) depict long-abandoned machines the purposes of which are impossible to divine. The icy, sickly sweet palette is altogether appropriate to Jess' clinical strangeness. History will scratch its head over Jess' art.
"Jess: Paintings and Paste-Ups" is at Tibor de Nagy Gallery, 724 Fifth Avenue, until July 31.
mnaves@observer.com.