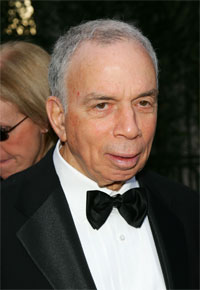 The most interesting thing in Richard Perez-Pena's 3,330 word write-around profile of Si Newhouse is the language from Condé Nast executives about the importance of the Web.
Tom Wallace, editorial director, Condé Nast: "You're going to have to go a long way on the Internet to compete with the way we produce words and images in the magazines."
Steve Newhouse, chariman of Advance.net: "What we're not doing is trying to turn those companion sites into large Web destinations. They're there to support the magazines."
Jonathan Newhouse, head of Condé Nast international: "I think sometimes commentators throw around these assumptions about what is happening to the industry, going the way of newspapers, and I don't believe it."
Chuck Newhouse, Condé Nast's C.E.O., offered a little more sobriety: The future, he told Perez-Pena, "certainly will require everyone to take a harder look at profitability."
But that's before he added this: "But we are the top-end publisher and it has served us well and I believe it will stand the test. Painting cheap stripes on Condé Nast and saying we're going to serve up Condé Nast Lite would be a huge mistake."
Steve Newhouse offers (pretty unconvincing) speculation that seems to throw water on talk of a Si "succession plan," that Condé Nast will be run by a committee.
Today, speculation revolves around how much longer Mr. Newhouse will maintain his desk in the executive suite. In the 1990s, Jonathan Newhouse, a first cousin who runs Condé Nast International in London, was widely seen as the heir apparent.
In this decade, that designation shifted to Steve Newhouse, one of Donald's sons, who, as chairman of Advance.net, has overseen all of Advance's Internet operations since the 1990s.
Both ideas are simply wrong, according to Steve Newhouse, Mr. Townsend and some other top executives. Instead of a single heir to Si, they say, a team of people will be running the show.
"Si has set us up with Chuck as C.E.O., Jonathan running the international group, and me running the Internet," Steve Newhouse says. "I would anticipate that those roles would remain the same."
"I am not going to be running the magazines," he adds.