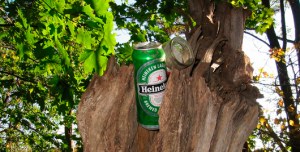 Today, The New York Times brings us a mouthwatering, albeit hardly groundbreaking, trend piece on the time-honored summer phenomenon of public drinking. Yes, it's hot outside, and New Yorkers are quenching their thirst by throwing back cold ones at just about every turn. As Cara Buckley writes:
New York City is somewhat of a drinker's paradise year round, but a certain extra layer of permissiveness seems to infuse the city in the summertime, along with a wellspring of opportunities to get sloshed, slightly or mightily.
[…]
With bars on every corner, and—thanks to buses, subways or cabs—no need to drive after the drinking is done, New York City … is like a giant—and boozy—college campus. And this is never more true than in the summer.
The possibilities for outdoor boozing in New York are many: bars and restaurants with sidewalk seating, friends' rooftops and stoops, and, of course, public parks. Ms. Buckley goes on-scene at a recent "movies under the stars" screening at Bryant Park, where some carefree young revelers were downing Yellow Tail shiraz, straight from the bottle. And on a Monday night, no less! Other potable-friendly parks include the Great Lawn in Central Park, Cunningham Park in Queens, Van Cortlandt Park in the Bronx and Prospect Park in Brooklyn, where hipsters recently swigged beer from brown paper bags while maxing on the lawn near the bandshell during a performance by the band Cold War Kids.
So is drinking in public really that easy to get away with? According to the Times:
The official line from the city's parks department is that alcohol cannot be brought into city parks, though in the summer of 2003, Mayor Michael Bloomberg suggested that drinking wine at concerts in Central Park was O.K. At Bryant Park on July 7, a security guard said he turned a blind eye to booze on movie nights, "so long as it is covered, like in a bag."
This reporter learned that lesson the hard way two summers ago in Prospect Park, where some friendly police officers issued public drinking summonses (cost: $25 and an unecessary trip to the court house in Red Hook) to a group of twenty-somethings during a mid-afternoon barbecue. Apparently, the cops said, they would have turned a blind eye if we'd actually poured our Coronas into the red cups that were sitting on the blanket.
So, summer boozers of New York beware: When it comes to public drinking, discretion is the key!