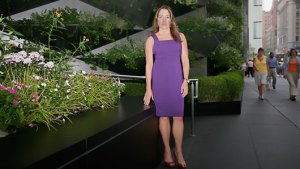 Location: After years of bubbling real estate prices, the market is changing, and now is not exactly a good time to be selling an apartment—let alone thousands, which is your job. Do you lie awake panicked in bed?
Ms. de França: I mean, I realize it's a challenging market, but I can't say I'm living in fear of it.… We've enjoyed an incredibly robust market in the past five or six years, which is now stabilizing; I think that buyers are much more skeptical, consumer confidence is lower than it's been. With that said, it gives us an opportunity to be patient with the consumer, educate them. … And really it's times like this, for a developer mentality, that separates the men from the boys. … Related, and the premier developers who have a proven track record, they are able to instill—we are able to instill—customer confidence.
Apparently, we're only in the second inning of this downturn. Have you braced yourself for lower sales?
We're not fearful here at Related. We're still committed to all our developments; we're very, very particular in where we select to build our properties in premier locations, and in times like this, we wouldn't go into fringe areas—and we still don't even in the robust bull markets.
It seems really unlikely you'd have no fear now. Isn't everyone nervous about this era?
I don't want to say we don't have fear. We're being thoughtful, we're being careful, we're watching the timing. … Just to remind you, I went through the events of Sept. 11, as we all did, unfortunately—but bringing the Time Warner Center to the market. So we as a company have seen challenges, have endured those hurdles. We got approval for the south tower at the end of August 2001, and it was the first week in October when the attorney general approved the north tower. … What happened was it took about a year for the European international market to come in.
Do you think there's more anxiety at Related now, with Fannie Mae and Freddie Mac collapsing, than after 9/11?
I don't.… Because we run the gamut on price-per-square-feet, we feel we don't have all our eggs in one basket. … Let's say at Riverwalk [on Roosevelt Island], our customers are more concerned about the subprime market. When you're dealing with Astor Place or the Harrison or the Brompton, that sophisticated, more, you know, wealthier individual [is] more comfortable.
Wouldn't prices coming down in New York be a good thing? Like oil, hasn't real estate been too high, unaffordable for almost everyone but a certain group?
I think, in general, prices coming down is not a positive thing. … Prices coming down for someone who's made a huge investment I don't think is a good thing; on a personal level, I wouldn't think it's a good thing.
You just sold a record $47 million duplex penthouse at the new Century tower in L.A. to Candy Spelling. Is New York still your focus for mega-luxury, or is the future in other U.S. cities or even Russia and the Middle East?
We do see this trend toward vertical living throughout the country, particularly in Los Angeles, where there's a very affluent community; and many of the baby boomers and empty nesters have these sprawling estates, and they love L.A., they're Angelinos at heart, but they want to travel more, they want a more maintenance-free life.
In May, the M.T.A. picked Related to develop the 26-acre West Side rail yards. What will the residential towers there look like?
I look at it as an incredible opportunity for us to maybe offer housing at various different levels, for maybe teachers and, you know, to give back to the community. We want to have schools and maybe more cultural opportunities. … It could be more affordable, we're looking at ways in which to be very open; it will be rentals and condos, and that's really all I know right now.