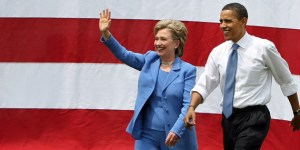 The night of Wednesday, July 9, was supposed to be when Barack Obama appealed directly to his supporters to help Hillary Clinton erase her campaign debt.
But he almost forgot to do it.
After finishing his speech to a room full of New York donors at the Grand Hyatt without any mention of helping Clinton with her debt, reporters ran over to Obama's spokeswoman Jen Psaki, who was already spinning hard that Obama's failure to make a pitch was no big deal. ("He said a lot of things," she said.) Then the music stopped and Obama, very awkwardly, started speaking again.
"Hold on a second, guys — I was getting a little carried away," he began. "This is not the speech part of it, but it is important.
"Senator Clinton still has some debt and I would have had some debt if I hadn't won. So I know the drill. There are many supporters of mine here who have not yet given something to help her retire her debt. I would be very grateful if you look under your chair, I think there should be an envelope, or a pledge sheet or something, if people would take the time to not only pick it up, but put something in it and mail it back, we've got volunteers outside who are collecting. That is part of the process toward unifying and moving forward. So I would ask all of you to take that time."
The crowd replied with a smattering of applause.
"Turn on the music again, let's keep on partying, but New York, take this responsibility seriously. It's something that's important to us. And obviously Senator Clinton will be grateful as well."
Up to that moment, the staging had been more or less perfect.
As early as 6 p.m., contributors to Clinton and Obama had started filing in through the main entrance of the Hyatt, taking the elevators past inflatable baseballs floating in the hotel's fountains and signs advertising the week's Major League Baseball All-Star game. The Obama advance team steered smaller donors toward a metal detector that fed into the ballroom, and directed bundlers to another beeping gate that led into a smaller room where Obama would meet with them personally.
"It's to introduce people from the Clinton camp to the Senator," said Alan Patricof, who seemed in good spirits as the entered the hotel. The financier and Clinton loyalist had already begun raising money for Obama, but said, "Some of the people who are here have been waiting for the opportunity to meet him."
As the donors took their places in a large ballroom with seats surrounding a stage, the Obama press team worked heavy-handedly to clear the room and halls or members of the media.
Saying that no press were allowed in the halls or anywhere else outside of a predetermined area, a junior press officer name Pauline wrangled representatives from New York's largest tabloids away from the doors where they could have any access to guests.
"This is very standard for us," she said, as she led the reporters down an escalator away from the donors. "I know it's a much better story if you guys can get some flavor, but." Then she looked back up the escalator and mouthed to a colleague, "If you see any press, move them out."
Obama arrived at the Grand Hyatt a few minutes before 7 p.m. with Caroline Kennedy, and then met with about 75 donors, including major Clinton bundlers such as Steven Rattner, Hassan Nemazee, Robert Zimmerman, Patricof and Fred Hochberg, and their Obama counterparts such as Orin Kramer and Jeh Johnson. Obama made no remarks to the group as a whole, but spoke to donors individually on a photo line.
Some of the former Clinton campaign donors in the room, such as Nemazee and Hochberg, had already raised six figures for the candidate. In less than 10 days, Nemazee had, at the behest of Obama finance chair Penny Pritzker, bundled commitments for $200,000 for the evening's event, and another $250,000 for an event in Orange County on Sunday.
Asked if the Obama campaign appreciated his efforts, Nemazee said "In the world I operate in, you produce and people show their appreciation," he said. "I have no doubt the people in the Obama world appreciate what people in the Clinton world are doing."
When asked how much the Obama donors would raise for Clinton, Nemazee said he was "sure the number would be a respectable number."
"I've read these articles in the paper and I think everybody should just take a deep breath," said Mr. Nemazee, saying that the Clinton donors would raise substantial amounts for Obama and expressing confidence that the Obama people would come through for Clinton. "Let's give them a chance to do what they can do on debt relief."
Hochberg had cut short a trip to Jordan and arrived that afternoon to attend the event. He said he had raised his share of the money while he was away, all of it through e-mails to friends and associates back home.
Obama spoke with the bundlers on an individual basis for about an hour, but saved his formal speech for the ballroom, where he addressed a crowd of about 1,000 donors who had paid between $1,000 and $50,000 for "The Obama Victory Fund," a pot of money to benefit Obama and the Democratic National Committee. He called Clinton "tough and smart" and said she "wore me out" during the primary, and that he was "a better candidate because of her."
He said Clinton would be on the "forefront" of passing a universal health care bill when he would be president, and that because of her talents, "many of you in the room understandably supported her in the primary."
Obama then talked to the wealthy donors about the hardships of working- and middle-class people he had encountered across the country before returning to the commonalities between him and Senator Clinton.
"Listen, number one, Senator Hillary Clinton and I agree on 98.9 percent of the issues," he said, adding that they both opposed John McCain, who he then methodically attacked.
But it was Obama's lapse that caught the attention of reporters, some of whom had been told only minutes earlier by Clinton spokesman Mo Elleithee that Obama was expected to make a pitch to help erase Clinton's debt in the grand ballroom. (He was supposed to do that in a private meeting earlier in the day, but the event was canceled due a delay caused by votes in Washington.)
After the meeting, Clinton donor Hochberg admitted that the delivery of the pitch was "odd," but said, "Maybe I'm a more forgiving guy."
Hochberg said that Obama was the nominee and that he would do everything he could to help him win.
As for Obama's nearly forgotten pitch for Clinton, he said that what counted was the result. "The only answer is if the money comes in," he said.
UPDATE: After the event at the Hyatt, some of the major bundlers went uptown to see Obama and Clinton appear together at another fund-raiser at the Regency.
Here's the pool report from that event, courtesy of Nick Timiraos of The Wall Street Journal:
Hillary Clinton and Barack Obama spoke to the crowd of 125 for about 15 minutes mid-way through their dinner. Sen. Clinton told the crowd they needed to be united because the election would be a tough struggle: "It is not easy for a democrat to be elected president." Sen. Obama said that he came before the friendly but mostly pro-Clinton crowd with humility—though he noted how he would help expand the Democratic map in the fall, ticking of red and purple states where he was ahead or close (ND, MT, GA, VA, NC, CO, NM, NV). The event, hosted by Barbaralee Diamonstein and Carl Spielvogel, was moved from their Park Avenue residence to the Loews Regency to accommodate the 125 attendees, per the campaign (seemed about right – your pooler counted 13 tables wit
h about 10). At $33,100 a plate, that's a $4.1 million haul. Diamonstein had served on the commission of fine arts as a Clinton appointee, and Spielvogel served as U.S. Ambassador to the Slovak Republic from 2000-01. Full report: The crowd nibbled on rolls and had just midway through the meal (a few diners still had their cream-based soup on the silver platter place holders). Martini glasses filled with chocolates and Obama buttons stood on each table, with votive candles, tablecloths, and the whole nine yards. The room was elegant but not ostentatious, with three large silver and crystal chandeliers, and intimate enough that the pols could maybe have done it without a mic. Your pooler arrived as Barbaralee introduced Sen. Clinton, who spoke for about 10 minutes. Most of it fairly standard unity stump speak. She received an enthusiastic and extended standing ovation before she started in. Obama stood behind her, arms folded across his chest, the standard pensive look. (And they weren't color coordinated this time, with Sen. Clinton decked out in bright orange and black) "The stakes could not be higher and the necessity of us to have a united Democratic party that does everything we possibly can between now and November to elect Senator Obama president is I hope self evident," Clinton said. She stressed unity given how hard it was for Democrats to win the White House. "But since I've been an adult there have been ten presidential elections, and democrats have only won three of them. So I take it very personally that we have to win this time and I happen to know very well the person who won those elections and I know how hard it is no matter how good the candidate, no matter how clear the need for change, no matter how the opponent presents himself. It is not easy for a democrat to be elected president." Also she stressed that the campaign couldn't be one of media wars, ground wars, and of the "viral in a blogosphere sense," but that it had to be personal too. "Whatever brings us here tonight is not only unifying but transcendent. Anyone who voted for me has much more in common with those of you who supported Barack than you do with our republican opponent and that has to be the argument we make and I believe that [applause]… this is going to be not only a campaign that is waged in the media as all campaigns in modern times have to be and not only on the ground…. This also has to be in a sense an old fashioned campaign… where it's not just viral in a blogosphere sense but it's very personal as to why you're willing to put your money and your efforts and your heart and your soul in to this campaign. So I am very appreciative of those who supported me like Barbaralee and Carl, putting your efforts behind this event tonight because it really is important that we make this stand and we do it a way that spreads the message loud and far so it gives me a lot of pleasure to introduce someone… who has been on the stage with me 22 times in debates–but who's counting?–and who has run an extraordinary campaign and is in my view the person who should take the oath of office next January when we finally see the end of the bush administration which cannot come to soon." With that, she handed over the mic with the obligatory kiss on the cheek. The crowd applauded politely, then a few stood, and then Obama received the same extended ovation that they'd just given to Clinton. He spoke for about five minutes, most of it standard stump. Thanked the hosts, and joked that "Barbaralee tells us she could have fit everybody in her house. She had it all planned out." Thanked "my old friends and my new friends" and most of all, "the woman who is standing next to me." Praised her "remarkable work at every stage of her life" and called it one of the "great honors of my life to campaign alongside her, to debate her—she left a bunch of lumps on my head at the debates—and was just extraordinary as a campaigner." Bowed to her "graciousness." Then he turned to the campaign ahead, special moment, once in a generation. Talked about the "army" of voters they'd created. "I went to 49 states," he said, turning to Sen. Clinton. "Did you ever make it up to Alaska?" "No, I did not," came her reply. He talked about his chance to win states that hadn't voted for a Democrat since LBJ. "I was in North Dakota, I'm down two. I was in Montana, we're up five." And up one in Georgia, statistically tied in Virginia and North Carolina, "We're up in New Mexico, we're up in Nevada. So we've got an opportunity to not just win an election but to change the political map." He said that Democrats now had the opportunity where they would no longer have "to just thread the needle." But it's not about me, he continued. It's about the American people. "If we're going to win this race I'm going to need everyone in the room and I come to you with great humility…. With just half a wing this bird can't fly." Then he wrapped it up, promising to spend more time talking with folks individually. And with that your pool was escorted out.