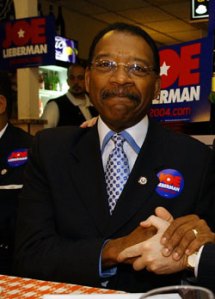 Democratic hopes of taking over the New York State Senate this year may hinge on Rubén Díaz Sr. And that's not good for them.
Mr. Díaz is a conservative member of their conference who, to their chagrin, is in the habit of flaunting his coziness with the Republican Party.
And now, Mr. Díaz — the only Democratic state senator to run for reelection this year with the support of the G.O.P. — is justifying his actions to his Democratic colleagues by calling into question their own partisan credentials.
In an interview, Mr. Díaz recalled the 2005 mayoral election, when Democrat Fernando Ferrer opposed (then) Republican Michael Bloomberg.
"Half of the Democratic senators went against Ferrer, including Malcolm Smith," Mr. Díaz said, referring to the leader of his Democratic conference. "I'm not saying I'm going to go against Smith, but I am saying that people have done it before."
"Where were all these Democrats when Fernando Ferrer needed them?"
(When asked for a reaction, Mr. Smith's office referred the inquiry to Democratic political consultant Doug Forand, who declined to comment.)
Mr. Díaz, who sides with his party on economic issues but with Republicans on social issues like abortion rights, pointedly refuses to commit to supporting a Democratic majority leader—whether the Democrats take over the Senate in November or not.
The Republicans currently enjoy a two-seat majority.
"I might not vote for anybody," Mr. Díaz said. "I may stay home."