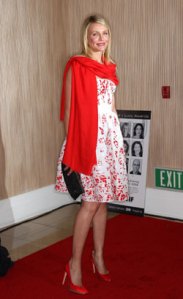 On a recent balmy Saturday on the Ladies Mile of lower Fifth Avenue, the windows of Intermix, Anthropologie and H&M were just beginning to transition into displaying fall collections, but many of the shoppers shlepping around in 90-degree heat were curiously dressed in what could be mistaken for winter wear: Frye boots! Knit scarves! And woven beanie hats!
"You know you might get some looks if you wear boots and a scarf down the street in the summer," said Morgan Monaco, 24, a Parks Department employee who has taken to wearing her Max Azria riding boots and black pashmina year-round. "But it's this ironic-look trend, a sort of fuck you."
Manhattan women are indeed giving the finger to the seasons, pulling tall leather boots onto their feet in the summer and opting for peep-toe summer pumps paired with thick tights and denim cutoffs in the winter months. Famous fillies like Kirsten Dunst, Blake Lively and Mischa Barton have all been spotted recently trotting through the city in heavy-duty footwear, scarves wrapped around their perspiring necks. Depending on whom you ask, it's seasonless chic … or sartorial chaos.
According to Stephanie Solomon, vice president of women's sales at Bloomingdale's, we're in the midst of a major new movement. "Seasonless dressing!" she called it, pointing out that Frye harness boots ($195) and Juicy riding boots ($625) have been selling unusually well this summer. "I don't know anybody anymore who changes their closet from winter to summer. Every item in one's wardrobe has become wearable year-round."
Ms. Solomon suggested that there is "something rebellious and insouciant"—perhaps also a little kooky—about wearing winter togs during summer. "It's like, 'Oh, these boots are so comfortable and I know it's 100 degrees outside, but I'll just wear my shorts with these boots anyway.'"
SCARFING IT UP
Outside Anthropologie, The Observer spotted Julie Bernstein, an event planner at a Manhattan law firm, wearing a colorful knit scarf, simple slacks, a T-shirt and flip-flops. "I'm not swapping the winter and summer stuff in my closet as much, but I've always been against that," said Ms. Bernstein, 29. "I just think clothing is more versatile right now, with no distinct style or rules."
At Intermix, a Helmut Lang leather jacket ($1,265) and a sweater skirt by Diane von Furstenberg ($345) have become top-sellers this summer. And a $85 Love Quotes chunky linen scarf, photographed around the elongated necks of Sienna Miller, Lindsay Lohan and Cameron Diaz, has been flying out of Big Drop.
Linda Fargo, the women's fashion director of Bergdorf Goodman, fingered global warming. "Shorter, less harsh winters, and longer summer months have made heavy fabrics less desirable and midweight to light fabrics more versatile," she wrote in an e-mail.
"There is also the global nomad phenomenon," said Valerie Steele, director of the Museum at the Fashion Institute of Technology. "People are traveling more frequently than they used to, and they need a wardrobe uniform that will take them anywhere they want to go." And Ms. Solomon of Bloomingdale's suggested that since designers like Roberto Cavalli and Marc Jacobs have begun catering to booming markets in places like Moscow and Dubai, their designs have become less season-oriented.
Whom else can we blame for the trend? The Internet, bien sûr.
Fashion weeks used to be trade shows, intended for the select eyes of editors, buyers, stylists and critics. Average shoppers rarely saw the collections before they appeared in a magazine spread and later arrived in stores. These days, however, even the casually fashion-conscious can browse through thousands of spring looks on Style.com mere hours after they come down the runway, devouring them faster than the presumed fashion experts sitting in the front rows. By the time the collections make it to the stores—when they become season-appropriate—it would be no surprise if they seem somehow dated, less desirable.