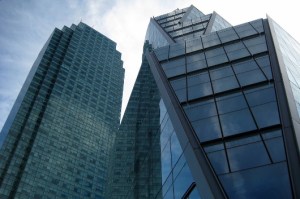 It's not every day that you hear New Yorkers complaining about the absence of a Starbucks or a Duane Reade, but the chains that are so often maligned in Manhattan lately are just the type of convenience that people working in Long Island City miss the most.
When Deborah, a Citigroup employee, learned that she was being transferred from Manhattan to Long Island City 10 years ago, she was less than enthusiastic about the move.
"When I first heard I thought, 'Ugh, Long Island City,' because I'd never heard about it," said during a mid-Monday morning smoke break outside the neighborhood's first high-rise, high-profile office building, Court Square One. "Then I realized how easy it was to get here, and now it's O.K."
Every morning, Deborah rides the G train straight from her home in Downtown Brooklyn without switching lines; and when she's not in a rush, takes the bus back in the evenings. Nonetheless, she admitted that "there's not much to do" in LIC.
"We don't have a drugstore, and I would kill for a Wendy's or a Burger King," she said. "The closest thing we have is a Domino's Pizza. There's a [C-Town] grocery store, but with all the empty space around it would be nice to have a Duane Reade or a Rite-Aid."
It has been almost two decades since Citigroup built the 1.4 million-square-foot office development Court Square One in 1989, and while some other companies have followed suit, the 48-story tower remains the tallest building in Queens—and an isolated blip on the skyline.
In 2007, Citigroup completed a separate, 15-story office tower next door, Court Square Two—as the company continues to transfer office workers to Queens—and the United Nations Federal Credit Union moved into a 220,000-square-foot office building, Court Square Place in 2006. But retailers have yet to follow, and LIC still looks more like downtown Hartford than New York's fourth large business district.
Last week, the New York Post reported that one of the firms driving LIC's residential boom, Rockrose Development Corp., began shopping for an anchor tenant to occupy at least half of the 42-story office tower it plans to build at 10 Court Square.
While there are clear financial incentives for developers and companies to set up shop in LIC—Class A office space there currently rents for $34 per square foot, according to the New York City Economic Development Corporation, well below Manhattan rents—employees are divided over whether any perks of working in Queens outweigh the pains. For residents of Brooklyn, Queens, and the Bronx, the commute to LIC is generally shorter than the trip to Manhattan, though the G train is notoriously unreliable.
The lack of retail options and boredom are the pitfalls most often cited by employees, whether they like LIC or not.
"Advocate for more eateries in the neighborhood," urged Joel, a New Jersey native who has worked in Court Square One for seven years. "It's gotten better compared to seven years ago when you had no choice but to eat where you worked, but food is still a big issue. People also complain about needing a Duane Reade and a Starbucks, but they'll always complain about something."
Though the coffee shop in the lobby of Court Square One appears to be a branch of the ubiquitous coffee chain, Joel's younger, J. Crew-catalogue-looking colleague pointed out the distinction between the "We proudly brew Starbucks" and "We proudly are a Starbucks," namely "funny breakfast sandwiches." Both men were dressed in khakis and button-down shirts–Joel's short-sleeved and patterned–sans tie, which seems to be the defacto uniform in LIC based on the relative absence of suits sported by the employees we spoke with.
"It's far and it's inconvenient," said one particularly dissatisfied female employee who has worked in the building for 10 years and lately commutes an hour and 15 minutes from New Jersey every day. She said that the building management once did a survey on the time employees spent commuting to the office and found the average was 90 minutes each way.
"Then you get here and can't get things done. You can't go to the drug store, can't pick up a birthday gift," she said from the aforementioned coffee shop in One Court Square's lobby.
Nearby, a strip of eateries have closed to make way for a hotel under construction, she said, so lunch choices are now limited to the cafeteria or deli at Court Square One, a Quizno's, a Dominoes Pizza, and some local Italian eateries and ethnic food vendors. The underdeveloped retail sector in LIC means buildings must be more or less self-sufficient. (How the crop of new condo-dwellers makes do is another story.)
"I don't know how people are buying these condos," she said of the new residential projects nearby. "The only grocery store is a C-Town in the middle of nowhere, and the restaurants all close at night.
"Nobody likes being in this building," she sighed resignedly, "but after 10 years it is what it is."
Actually some people do. Almost everyone said they wished there were more restaurants, but what some characterized as "boring," others describe as "low-key."
"Coming here from Manhattan is a real culture shock," said one employee puffing away in front of the newest Citigroup building with three other forty-something, heavyset men on Monday morning. "There, you walk from store to store. You have so much variety. Here, forget it, man. The cafeteria's too pricey so we usually eat Chinese food. There's also a Spanish place, and a lot of ethnic stuff.
"It's interesting, but, after a while, interesting gets old."
"The hardest part is that there are not as many pretty girls passing by," a man from the Bronx wearing a baseball cap offered, prompting wistful sighs of agreement from his three smoking buddies.
"Parking is also too expensive," offered another employee who has been commuting from New Jersey by car for about seven years. He pays $7 daily to park, but refused to divulge the name and location of the lot. "It's a secret. Most people pay like $10 a day, Manhattan prices.
"But if you like peace and quiet, this place is perfect."
Though the peace and quiet in LIC is penetrated by the near constant din of construction these days, a UNFCU employee who started working at their new building just a couple of months ago after six years in Manhattan prefers the new neighborhood. "I like it better here," he said. "The city is too congested."
Most of his colleagues who've recently moved over to Queens appear to feel the same way, he said, but there are a few who feel that the outer-boroughs are beneath them. "A friend of mine who works next door hates it," he said. "She said she didn't go through all that college to work in the ghetto.
"Sure, [LIC] could use a McDonald's and there is too much construction going on, but I guess that's the only way to build it up
. It's going to be the new alternative to Manhattan. Every borough is competing now, I guess."
Commercial developers seem less convinced of LIC's viability, but there are somewhat positive signals.
Tishman Speyer, for instance, is finally expected to break ground on a scaled-down Gotham Center in Queens Plaza—originally the developer giant planned to build 3 million square feet, but the most recent description of the project on the EDC Web site is for a 1.5 million-square-foot complex with the option of 1.5 million additional square feet in a second building phase.
E.J. Minskoff Equities' $300 million mixed-use development North 30 is scheduled to be finished in late 2009, according to theEDC, but judging by the language it doesn't sound like the commercial portion has really taken off. The site says there is "opportunity to create as much as 650,000 SF of mixed-use space at 30-30 Northern Boulevard between 40th Avenue and 40th Road."
"The opportunity to create more than 580,000 sf of mixed-use space at (24-02 43rd Avenue) in Court Square," is also available in Rockrose's planned development, according to the EDC, leaving the potential for many more office workers to make Long Island City their professional home.