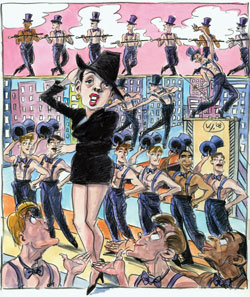 "It's one of the last fabulous things about New York," a dark-haired young man nursing a drink at the nightclub Splash, on West 17th Street, said the other night. He was referring to Musical Mondays, a weekly event at which a VJ plays video clips from Broadway shows—plus films based on Broadway shows, films featuring Broadway stars, Broadway tribute shows, and Tony Awards shows—to an audience of mostly gay, mostly young men, and a smattering of theatrically inclined young women.
A clip from the musical Wicked, featuring the actress Idina Menzel, came on. A cheer went up from the crowd. "I've been coming on and off since I was 22 or 23," said a 26-year-old blond named Kevin, who is in cosmetology school. He wants to design wigs for Broadway shows, and, he said, the union requires its wig designers to be licensed hairstylists. "It's very word-of-mouth. I was working at a press office—you definitely run into people you work with."
A clip of the actor Jake Gyllenhaal's January 2007 appearance on Saturday Night Live, when he sings the song "And I Am Telling You I'm Not Going," from Dreamgirls, came on. "I knew since I was 7 that I was moving to New York," continued Kevin, who was raised outside of Washington, D.C., and now lives in Hell's Kitchen. He is skinny, with spiky hair. He wore an aqua blue T-shirt, jeans and flip-flops. "I moved here two months after I turned 18. I was temping, working in restaurant jobs. I came to be an actor."
If that sounds like a familiar path, one trod by thousands of young, good-looking gay men before him, it's nevertheless no longer the gay cliché. These days, the young gays of Williamsburg and the East Village—the ones who wear pointy shoes and tight cutoff shorts, who studied queer theory and dabbled in heroin at Sarah Lawrence or Bard or Wesleyan, hang out at bars like Metropolitan and Sugarland in Williamsburg or the Phoenix and Eastern Bloc in the East Village, and listen to Chromeo and Girl Talk and Le Tigre—get all the attention. Corner one of these young men, and he will profess ignorance of that other scene of youthful gays, the gays of the Friends of Dorothy variety. As one of the New Gays confidently told me, it is a scene made up exclusively of the old and, quite possibly, fat, adding that the only young men who fraternize with this group are those who cannot, in all likelihood and despite their best efforts, get laid.
Ouch.
Of course, to paraphrase Barbra Streisand, they're still here. One might even say they're flourishing. Here come the New Old Gays!
To be classified as a New Old Gay requires more than an appreciation of Patti LuPone, though love of somewhat tragic, just a tad grotesque, totally fabulous divas is a requirement. In some ways the New Old Gay can be read as a reassertion of a gay identity that had all but been given up for dead: If gays can be married and have children and live contentedly in the suburbs, or on the other end of the spectrum, do the same drugs at the same loft parties as their Oberlin classmates, and if everyone thinks AIDS is no more serious than diabetes, then, really, what's the difference between the gays and the straights? By dialing back to and reinventing the old gay stereotypes, they may have the best shot at reclaiming gayness as something actually different.
It's akin to the ways in which identity politics have played out for various minorities and ethnic groups; everyone makes this huge effort to assimilate, and then, after 10 or 20 years or so, they realize: It's boring!
And thus, the New Old Gay appreciates and embraces camp and high kitsch, but not ironically; ultimately, the New Old Gay is earnest. He doesn't even necessarily have to be into musical theater, though he almost always is.
Project Runway Season 1 contestant Austin Scarlett is New Old Gay, Project Runway Season 4 winner Christian Siriano is New Gay. The Scissor Sisters are New Gay. Rufus Wainwright flirts with being New Old Gay, but he's really New Gay in a Judy Garland costume. New Old Gay is The Golden Girls; New Gay is America's Next Top Model. New Old Gay is putting together a reading of a Wendy Wasserstein play and singing show tunes around the piano at Marie's Crisis, the West Village bar with colored Christmas lights arranged in a rainbow pattern on the ceiling; New Gay is karaoke at Sing Sing after a birthday party at Primorski's in Brighton Beach.