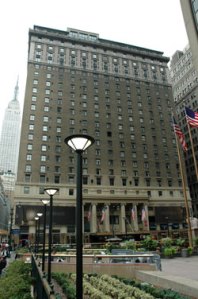 Veteran punk rocker Jello Biafra didn't trash his hotel room during a recent trip to New York. It was already trashed.
"The air-conditioners are so old and beat up, I figure why waste electrical power during an energy crunch when I can just take off all my clothes and work nude?" quipped Mr. Biafra, the 50-year-old former lead singer of the irreverent Reagan-era rock band the Dead Kennedys and a onetime fringe presidential candidate. "I come from cold, foggy San Francisco, so I like it when the heat is sweltering. It's a nice treat to work nude."
He was staying at the historic Hotel Pennsylvania, a veritable musical landmark befitting the songwriter responsible for the satirical travel anthem "Holiday in Cambodia."
Speaking to The Observer in the hallway outside the hotel's 18th-floor ballroom this past Sunday night, Mr. Biafra stood just steps away from a framed copy of the sheet music to "Pennsylvania 6-5000," the Glenn Miller Orchestra's ode to the once glorious hotel, built in 1919, and its long-standing phone number.
"It's definitely a tired old hotel that hasn't really been fixed in a long time," said Mr. Biafra, in town for a speaking engagement.
Earlier that afternoon, he delivered a fiery two-hour sermon to the biennial gathering at the hotel of computer geeks, conspiracy buffs and ex-convicts, known as HOPE (Hackers on Planet Earth).
Mr. Biafra is a regular guest of the conference, which this year included seminars on such cloak-and-dagger topics as safe cracking and lock picking, as well as how to turn a $50 popcorn machine into a high-tech $400 "herbal vaporizer."
"They've had me five times in a row even though I don't know how to use a computer," joked Mr. Biafra, who openly encouraged attendees to tinker with touch-screen voting machines during the upcoming November elections, among other acts of civil disobedience and cyber-sabotage, but warned the crowd to always be wary of Big Brother: "… and those big porcelain balls you find on top of the TV sets in this hotel! What are they for?"
Other speakers included high-tech security consultant Kevin Mitnick, who spent five years in prison for illegally hacking into the computer systems of various corporations; and private investigator Steven Rambam, who during the previous hacker conference, two years ago, was arrested before even reaching the podium, on charges (which were later dropped) of interfering in a federal investigation. This year, Mr. Rambam went on for a full three hours.
The crowd of nearly 3,000 attendees—a group largely characterized by their pasty complexions, laptops and T-shirts emblazoned with techie slogans, including "Talk Nerdy To Me," "No, I Will Not Fix Your Computer" and "Keep Out of Direct Sunlight"—seemed right at home in the long-neglected lodge on Seventh Avenue.
"I literally live in a barn, so my standards are a bit different," said Douglas Spink, another guest speaker and former dot-com tycoon who turned to drug smuggling when the Internet bubble burst; later went to prison; and now trains horses in Washington State (his prize stallion currently being the victim of a highly publicized horse-napping). "I'm just happy to have running water."
The hackers have been coming to the Hotel Pennsylvania every two years or so since 1994—a streak that, until recently, seemed very much in jeopardy.
A LITTLE OVER a year ago, organizers learned that landlord Vornado Realty Trust, which acquired the hotel in 1997, was planning to demolish the ancient McKim, Mead & White-designed building and replace it with a soaring office tower.
Some HOPE participants took the news personally: "There is nothing more frightening to any government, to any corporate board room, than the knowledge that thousands of hackers in a single location may be focusing their attention in the same direction at the same instant," according to programs passed out at the conference. "A plan was thus devised by the agents of Vornado to strike down the gathering point of the hackers, to have them forever wander in search of a home, and to be in a perpetually weakened state."
One Manhattan-based technofile even spearheaded a campaign to have the old hotel designated as a city landmark, thus blocking the wrecking ball. Gregory Jones, a resident of nearby 30th Street, spent months lobbying elected officials, community leaders and the media, to little effect. The effort eventually earned the endorsement of the local community board, whose members even launched into a sing-along of the old Glenn Miller tune prior to voting—but ultimately failed to sway the city's Landmarks Preservation Commission, which twice rejected the proposal.
And so the hackers returned to their precious hotel on July 18 for what had been dubbed "The Last HOPE."
"I don't know why it doesn't occur to more developers to remodel an historic or an old building rather than just put up some boring new monstrosity," said Mr. Biafra as a group of hackers carried a symbolic coffin into the conference room during the event's closing ceremonies. "It costs them less money to do it. And you've got all kinds of people—even if this got turned into condos!—who want to move into an old, cool, revamped building. Or, you revive the hotel, fix it up a little bit. Or, you could do a combination of all of the above, and it would be a much more vibrant community than another generic office tower.