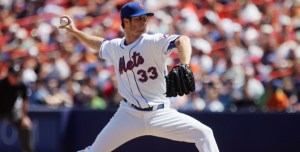 The John Maine the Mets need in order to maximize their potential over the season's final 61 games returned last night, throwing seven strong innings in New York's 6-3 victory over Philadelphia.
That Maine was missing in his previous four starts. After pitching at least six innings in 12 of his first 16 outings, Maine had failed to do so in each of his last four.
The difference between Maine's outing Wednesday and his previous failures is not throwing more strikes, or even more fastballs. For Maine, it is simply a question of when he throws strikes—early fastballs in the zone allow him to succeed later in at-bats with fastballs out of the zone. His curveball and changeup are prologue— Maine will go as far as his fastball command, with occasional slider, will take him.
That strategy paid off against the very first batter of the game. Maine began Jimmy Rollins with a fastball on the inside corner for a strike, and followed with one on the outside corner for a strike. Ahead 0-2, Maine was able to go up and out of the strike zone—his rising fastball is catnip to hitters, and he got a foul tip for strike three.
Maine also avoided the walks that had been plaguing him in recent starts and was elevating his pitch count. After 15 walks in his previous 19 innings, Maine walked just two Wednesday night. A reason why was his battle with the second batter, Chase Utley. Maine fell behind Utley 2-1, induced a foul on a good fastball up-and-in, but missed down to run the count full. Rather than throw a slider out of the strike zone, or a fastball so high it didn't force a swing, Maine challenged Utley—but challenged him up. Utley popped out.
And so Maine continued on. He appeared to be every bit the pitcher who was, for much of 2007, the ace of New York's staff. But Maine's season dovetailed, not coincidentally, with the fate of the Mets. His month-by-month ERAs in 2007 were 1.35, 4.50, 2.66 and 3.56 from April-July. But the ERA jumped to 6.32 in August and 5.93 in September as the Mets faded.
Even in a positive start like Wednesday night, Maine still ran into his familiar recent problems, losing command of his fastball. First, to Shane Victorino, Maine threw four steadily more hittable fastballs, each getting more plate than the last. Victorino deposited the fourth one over the wall in right-center field.
Maine briefly seemed to lose confidence in his fastball. He got to 1-1 on the next hitter, Geoff Jenkins, but the strike was right down the middle, the ball well off the plate. So he promptly threw two changeups—but it is his fourth-best pitch, and he didn't throw either for strikes. After Jenkins missed one fastball down the middle, he didn't miss a second—and just like that, Maine had given up back-to-back home runs.
Again, Maine turned to his lesser pitches, with lesser results. He started .212 hitter Carlos Ruiz with a pair of sliders, eventually walking him. Only the strikeout of pitcher Brett Myers appeared to save him from a big inning.
But Maine returned to form in the third, and cruised the rest of the way. Still, it is worth noting that Maine threw 66 of 104 pitches for strikes, or roughly 63 percent. During his four-game rough stretch, that number was 62 percent. So it isn't the amount of strikes that led to Maine's high walk total and early exits. It's when he throws them.
For a Mets team already facing questions about Pedro Martinez, whose return was just pushed back further due to the death of his father, the Mets badly need Maine to join Johan Santana, the emerging Mike Pelfrey and the resurgent Oliver Perez as givens in the rotation. In a lineup with continuing holes in right field, left field and second base, the Mets need starting pitching, especially Maine, to lead the way.