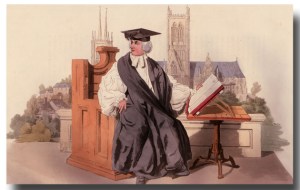 A review in Publisher's Weekly tends to be a book's first—some of the titles in last week's issue won't be on sale until the end of September—and for this reason, the dozens of reviews printed there each week, at about 200 words, are regarded as influential.
A "starred review" is a prize—a guarantee, almost, that booksellers, librarians, and book editors across the country will all take a look at a title when they get the galley in the mail. No guarantee that they'll go for it—not even editor-in-chief Sara Nelson would ever argue that PW unilaterally sets the tone for a book's reception—but in a field as crowded as this one, a mere look is a valuable thing.
Thus the reviewers of PW, who do not get bylines, have spoken as one as if from behind a drape for the past 136 years, their authority drawn from the classic (if not a bit fossilized!) PW brand and reinforced by the anonymity they are afforded by the magazine's no-bylines policy.
All that changed when PW announced to contributors this spring that the freelance rate was being cut by 50 percent, and that henceforth they would be paid only $25 per review. To make up for the cut, reviewers were told they would be "be credited as a contributor" in issues where their reviews ran.
And so an unfamiliar box appeared in the magazine. With this box, a little bit of PW tradition went to its grave, and the mystique of that booming PW voice, once so objective and authoritative, fractured and finally shattered by the 80-something names printed there in red ink, each referring to an individual, a person somewhere who read a book and wrote a review of it.
Who are these individuals? Enthusiasts, mainly. Schoolteachers, professors, stay-at-home moms, authors. It takes all kinds. We looked a handful of them up on Google, corresponded with a couple, and came up with some crude bios. Here's an assortment.
Anna Dembska—Composer. Has worked as a soprano and an improvisor. From the official bio: "She has produced and performed her original theater works, operas, and music since 1976—from Enough is Enough, a puppet opera, at the Bread and Puppet Circus, to Coyote at The Bang-on-a-Can Festival at Lincoln Center." Also: Ms. Dembska sings in a Maine-based quartet called "Singin' Local."
Pete Croatto—Movie critic. Loves Hoosiers and Planes Trains and Automobiles. Hated Date Movie and Baby Geniuses 2.
Bhob Stewart—Publisher of 1953's EC Fan Bulletin, the original EC fanzine. Editor of The MAD Style Guide, author of Wallace Wood biography Against the Grain, and a writer for 80's animated series Kissyfur. Acting credits include the legendary Venus in Furs and Warhol's Naomi's Birthday Party.
Kate Axelrod—Graduated from Oberlin last summer, then completed the six-week Columbia Publishing Course.
Naomi Woronov—Author of Modern American English: Living and Learning in the West, published in 1983 by the Shanghai Foreign Language Education Press. This book sold nearly two million copies in China. The University of Chicago Magazine declares: "A whole generation of Chinese learned to speak and understand English from this text."
Charlene Brusso—According to Ms. Brusso's bio, she has "worked as an archaeologist, an astronomer, a baker, an editor, a museum curator's assistant, a janitor, a tutor, a physicist, and a scientific programmer." Her focus is in science. She "[specializes] in physics, astronomy, planetary science and geology, and history of science." She is also a science fiction/fantasy author.
Libby Morse—University of Chicago graduate, now a senior advertising and marketing exec at Lipman Hearne. Reviews children's books.
Will Boisvert—Spent a few years reviewing books for Entertainment Weekly. At one point was a contributing editor at the magazine In These Times, where he filed excellent pieces about the 2004 Republican National Convention, the culture of "insiderism," and Francis Fukayama and biotechnology.
Nathalie op de Beeck—Assistant professor in the English department at Illinois State University, where she specializes in children's literature and childhood studies, visual studies, and critical theory.
Liam Brennen—This one directly from the man himself, via email: "Well, I'm a 24 year old writer from Winnipeg, Manitoba, Canada, having graduated just over a year ago with an English degree from the University of Manitoba. I started out writing for my student paper, covering Arts news and reviews and then managed to get a freelance job with the Winnipeg Free Press writing book reviews. In truth I hadn't actually heard of PW until I started reviewing really, and one day I noticed the review quote on the back cover of an old Stephen King book I was reading and thought that somehow I might be able to be the one who writes those! So I looked them up and within a couple of days I was reviewing for the fiction department. Shortly after that I got a job reviewing audiobooks (which is where I spend most of my time now) with PW and have since become a top reviewer in that section. And I suppose that's about it!"
Sue Corbett—Grew up in New York. Parents Irish immigrants. Started her career as a reporter, eventually settling on a job at The Miami Herald. She started reviewing children's books there in 1996. A regular contributor to People, and a young-adult novelist as well.
Lance Eaton—Has an ambiguous Web site which he has been maintaining since 1999. Believes that "despite how much we tell ourselves that we are independent and free-thinking people, we rarely can escape the paradigm of the world around us." In the throes of a research project about consumerism, consumption, and media. "I want to record and account for all the things I buy, consume, eat, and waste throughout the year to get a sense of what kind of spoke I am in the wheel of life." The Way-Back Machine tells us that he may have pioneered Twitter, as well as blogging.
Dick Adler—70 or 71 years old. Reviews mysteries—the American Crime Writers League gave him a prize recognizing his excellence in mystery-fiction reviewing. Began his career in 1956 at a men's magazine called Argosy. During the seventies, wrote for TV Guide. Member of the National Book Critics Circle.
Rachel Bravvman—Has written book reviews for Seattle Magazine and Bust. Also for a magazine geared towards people who have bipolar disorder and their friends and family. She is a consultant/grant writer, also. She writes in an e-mail: "My love of the written word is as deep as my respect for it. I'm impassioned by the way writing can transform the world around us- how language is able to shape thoughts, moods and actions. How in a split second, a string of syllables can instigate change. "I bring a reverence and facility for words to every project I undertake assuring that each communique is an innovation."
Kate Pavao—Graduated from The University of California at Santa Cruz with a degree in women's studies, then went to journalism school at Columbia. Was once an assistant editor at Teen People. Also editorial director
of chiccklick.com.
Ron Hogan—The editor of Galleycat, a Mediabistro blog about the publishing industry.
Sheri Melnick—Based in Enola, Penn. According to her Web site, a non-practicing lawyer and "stay-at-home mom of four children." Two of these four are twins. Ms. Melnick also writes reviews books for Romantic Times, which is narrowly dedicated to romance, mystery, and women's fiction.
Saul Austerlitz—A 29-year-old from Brooklyn, author of Money for Nothing: A History of the Music Video from the Beatles to the White Stripes. 
Ellen Wernecke—A recent graduate of Brown University, where she wrote for the Brown Daily Herald. Has also contributed to The Onion's AV Club section. Didn't get along with her freshman year roommate, according to a testimonal posted on a peer-review Web site. UPDATE: Initially we thought Ms. Wernecke was editor-in-chief of the BDH–what other conclusion to draw from this!–but people who went to school there tell us it's not so, "although she would have been good at it."
Adam Boretz—Second year M.F.A. at Columbia specializing in fiction as of spring 2007. Occupation on flickr listed as "Procrastinator." Favorite books and authors: George Saunders, Denis Johnson, John Irving, David Foster Wallace. Favorite movies: Zombie Movies, Fight Club, Fear and Loathing, Hedwig, Spinal Tap.
Roger Gathman—Lives in Austin, Tex. Edits (edited, by the looks of it) a Webzine called Calumny and Art. Studied philosophy in graduate school. Had a column in The Austin American-Statesman: "The Academic Presses," which was praised by Scott McLemee for carrying the torch of the dearly missed review of academic life Lingua Franca.
William D. Bushnell—Lives in Maine. According to the Maine Humanities Council, Mr. Bushnell has published more than 1,350 pieces in "thirty magazines and newspapers including Publishers Weekly, Library Journal, Civil War Times, Military Officer Magazine and many others." National Book Critics' Circle member; teaches or taught a class on book reviewing at the University of Southern Maine.
Sherwood Smith—Specialty is sci-fi and fantasy that borders on young-adult. Ms. Smith has written dozens of books in this genre. Has an official Web site featuring an FAQ section where the first "Q" is "Are there any more stories about Mel and Vidanric?"