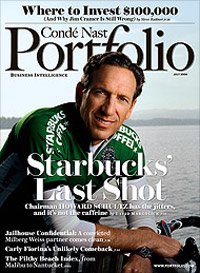 Earlier today, Media Mob looked at Richard Pérez-Peña's New York Times Sunday Business article about Condé Nast chairman Si Newhouse.
In that article, Mr. Pérez-Peña noted:
Last year, Condé introduced one of its most expensive new titles, Portfolio, its first business magazine, which company executives predict will lose $150 million or more before breaking even in four to five years.
The price tag for Porfolio just keeps going up, apparently. In April 2007, New York Magazine's Mark Fass wrote, that the magazine had "a reported budget of $125 million, it's the most expensive launch Condé Nast has ever done."
Previously, the quote had been $100 million. Around the same time in 2007, Keith Kelly of The New York Post reported, "Before it turns a profit some years down the road, insiders are expecting it will cost Condé Nast Chairman S.I. Newhouse $100 million or more from the Newhouse family's multibillion dollar publishing empire."
But who can say exactly how much it will cost? A day after The Post reported that figure, The New York Times's Katharine Q. Seelye talked to the press-shy chairman of the company:
Mr. Newhouse said that his reported commitment to the magazine of more than $100 million over the next five years was 'something of a myth' because 'we're going to stay with Portfolio.'
At those prices, he'd better.