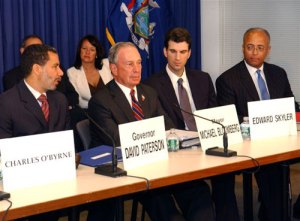 With the city's fiscal future looking bleak in the coming years, city Comptroller Bill Thompson is pushing at today's meeting of the Financial Control Board for a rainy day fund for the city's budget, in order to better balance the bad times with the good.
Following up on his report issued yesterday, the city's chief elected fiscal official highlighted in prepared testimony the rising debt burden of the city, a pot of tens of billions of dollars that has swelled as the Bloomberg administration has pushed economic development projects and modernization of crumbling infrastructure.
The result to the budget: A whole lot more city money going to debt service as revenues fall. (See our article from May for more detail on the city's rising debt.)
Up until now, politicians have been relatively quiet on the issue of debt, which is projected to rise from $54 billion to $73 billion from 2007 to 2011, but with a mayoral campaign approaching (Mr. Thompson is a likely candidate), and a long list of elected officials running for comptroller, it seems poised to gain a bit more time in the spotlight.
As for a rainy day fund, Bloomberg's budget director, Mark Page, has spoken out against the concept, saying the existing system of putting money into the budgets of future years is sufficient. That practice tends to leave more control with the mayor than would a rainy day fund, which the City Council would likely play a stronger role in disbursing.
Mr. Thompson's testimony below.
Governor Paterson, Mayor Bloomberg, Comptroller DiNapoli, private members and observers, good morning.
As you are all well-aware, the past year has seen a long economic expansion unravel dramatically. The financial model that promoted the widespread securitization of residential and commercial mortgages proved seriously flawed. Inadequate underwriting by financial institutions, poor evaluation by private ratings agencies, and insufficient regulation by government led to collapsing asset values and a freezing of credit channels.
The nation's financial institutions are expected to suffer losses approaching $600 billion dollars on residential loans and securities alone, consumer spending is weakening, and skyrocketing energy prices are generating inflationary pressures. The credit markets, which lubricate economic activity, are still sorting and re-pricing risks, and have failed to stabilize despite unprecedented interventions by monetary authorities.
Today, however, I take heart in the fact that-from a fiscal perspective-our city is relatively well-positioned to cope with the impact of a deteriorating economy and a softening housing market. In fact, in Fiscal Year 2008, New York City was able to preserve surpluses built up in prior years and add nearly $2 billion dollars to the fund that is enabling us to balance Fiscal Year 2009 and considerably narrow the Fiscal Year 2010 budget gap. The accumulated surplus of $6.6 billion dollars will make available additional resources of $3.81 billion in Fiscal Year 2009, $2.45 billion in Fiscal Year 2010 and $350 million in Fiscal Year 2011. Fiscal Year 2009 has already benefited from actions taken in Fiscal Year 2007 that reduced Fiscal Year 2009 spending by $675 million dollars.
The Bloomberg Administration has prudently set aside surplus resources as a hedge against the city's volatile economy and tax revenues. Arguably, the strength of the City's tax collections during much of the Mayor's tenure has made such decisions less difficult than they would otherwise have been.
But the pressure to use resources for current benefits such as increased services or tax reduction can be tremendous, and the Mayor is to be commended for balancing immediate needs with preparation for the inevitable economic downturn. As a consequence, the level of City services and tax rates will be more stable in the coming period. Even greater commendation would be in order if the City would establish a formal budget reserve-also known as a "rainy day fund"-to institutionalize the practice of smoothing the City's volatile revenues.
Despite the significant reserves devoted to reducing future budget gaps, the City still projects large out-year budget gaps of $2.344 billion in Fiscal Year 2010, $5.158 billion in Fiscal Year 2011 and $5.108 billion in Fiscal Year 2012. These projections would be much larger but for the assumption that the 7 percent reduction in the property tax that was enacted in Fiscal Year 2008 will be rescinded in Fiscal Year 2010. Without these additional revenues, the projected out-year gaps would reach $3.567 billion in Fiscal Year 2010, $6.456 billion in Fiscal Year 2011, and $6.467 billion in Fiscal Year 2012.
Furthermore, in most years of the Financial Plan period, risks identified by my Office outweigh potentially favorable developments. On net, the City is likely to experience a gap of $68 million dollars in Fiscal Year 2009, additional resources of $295 million dollars in Fiscal Year 2010, and increments of $538 million and $334 million dollars to the gaps in Fiscal Years 2011 and 2012, respectively. As a result, my Office's projected Fiscal Year 2010 gap narrows to just over $2 billion dollars while the Fiscal Year 2011 and Fiscal Year 2012 gaps widen to $5.7 billion and $5.4 billion dollars, respectively.
For Fiscal Year 2009, the gap emerges because tax revenues lag the City's projections and overtime expenditures exceed these projections. In subsequent years of the plan, my Office expects revenues to exceed the City's projections. This is because my Office's economic outlook, while gloomy, does not yield as sustained a fall-off in tax collections as does the City's forecast. I expect more robust property values and a quicker return to income growth than the City, although I expect out-year business tax revenues to grow more slowly.
Spending risks in the out-years of the plan are considerable and derive from four sources. First, the City's proposed $200 million dollar annual savings from health insurance restructuring is vague.
Second, I expect overtime costs to exceed planned amounts by $100 million dollars per year.
Third, pension costs will be higher because Fiscal Year 2008 investment returns fell short of the zero percent return reflected in the Adopted Budget, resulting in additional costs of $83 million dollars in Fiscal Year 2010 growing to $225 million dollars in Fiscal Year 2012.
Fourth, changes in accounting standards will prevent the City from borrowing for certain activities that have been considered capital expenditures, unless there is a change in State law. These expenditures are estimated to total $500 million dollars per year. Therefore, despite my forecast of lower judgments and claims costs than those projected in the Financial Plan, spending risks grow from $275 million dollars in Fiscal Year 2010 to $799 million dollars in Fiscal Year 2012.
The City also continues to grapple with its cost structure. Growth in health insurance and debt service expenses are each projected to grow well in excess of inflation. In fact, debt service as a percentage of tax revenue is projected to swell from 13.8 percent in Fiscal Year 2009 to 15.1 percent in Fiscal Year 2012. Furthermore, a projected moderation in the growth of pension fund contributions could be in jeopardy if investment returns do not recover quickly from Fiscal Year 2008 results.
In the face of dwindling revenues, the City removed pay-as-you-go capital spending from its financing program to free resources for other purposes. While this is an appropriate short-term measure to lessen the impacts on services of shrinking resources, the City has removed this financing method from each year of the financial plan. Because of its long-term benefits, pay-as-you-go financing must be returned to the plan as soon as possible.
The City's budget will continue to be under pressure for some time to come, as the scenario of falling or stagnating revenues combined with rising costs continues to unfold. The judicious use of reserves to smooth out revenues has afforded the City some time to develop gap-closing initiatives to address the large budget gaps in Fiscal Year 2010 and beyond. The best interest of New Yorkers will be served if these initiatives appropriately balance necessary services with the City's high tax burden and do not borrow from our future.
Thank you very much.