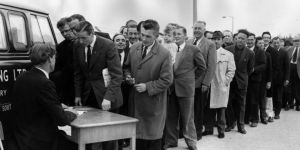 In the memo in which Dow Jones editor in chief Robert Thomson announced there would be job cuts at The Journal, he also said: "Our new budget includes an ambitious expansion of our web and international operations, both for the Journal and for Newswires, where we are adding 95 journalists over coming months."
So where exactly are those 95 people going? Not to The Wall Street Journal.
A spokesman for The Journal, Bob Christie, told Media Mob that those new hires will all be assigned to Dow Jones news wires, not at The Journal. Mr. Christie reminds us, however, that wire copy can be used, of course, inside the pages of The Journal.
And what's the time frame for these hires? He said they'll start now, and there's no end date in mind. So, conceivably, Mr. Thomson can take as long as he wants to hire.