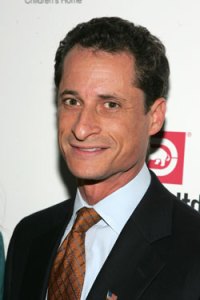 At the Crain's business breakfast breakfast this morning Representative Anthony Weiner spoke about "saving" New York's middle class, a theme that is likely to be at the center of his mayoral campaign.
The crux of Weiner's speech, at the Grand Hyatt Hotel in Manhattan, focused on job development. He did not rule out raising taxes, but did say that high taxes stymie job development. He defended the policy that prevents Wal-Mart (but not other big box stores), from coming into the city because it does not pay adequate wages. And he said that the city has to do a better job of offering incentives to keep business in New York City, since New Jersey has lower business taxes and can still access the city's workforce.
Weiner has previously outlined most of the policies he addressed today, but what stood out to some people in the audience was the (extremely) measured way in which he attempted to distinguish himself from the man he hopes to follow.
"Let me just say a word how I believe this approach meshes with Mike Bloomberg's way of governing," Weiner said. "Although we have some differences in policy, I want to make it clear I appreciate the way Mike Bloomberg governs."
Weiner went on, "I do believe that the end of the day the question for the next mayor is, 'Are you to keep that spirit of innovation alive, are you going to approach problems to solve them and do you have a vision for the city that looks at its overall best interests.'"
One person at the event said it sounded like Weiner wanted to run for Bloomberg's third term. A reporter standing next to me asked, "When did Anthony Weiner become Michael Bloomberg?"
Asked by Crain'smoderator Greg David at one point about powerful elected officials using rent-stabilized apartments, Weiner jokingly asked, "To whom are you referring?"
"The governor and Congressman Rangel," David said.
"I was hoping there was a slim chance you were referring to someone else," Weiner replied, smiling a little painfully, but eliciting laughter from the audience.
Then he essentially passed on the question, saying, "No one should be above the law. Everyone should follow the law."
Weiner added, "I think both of them have spoken extensively about the situation there and I think that they should not be above the law, and if they're following the law it's up to them to describe the circumstances."
During a panel discussion later, Daily News City Hall bureau chief Adam Lisberg asked Weiner about his management skills, noting that he had "a reputation of running through staff."
Arms folded, Weiner said, "I think I'm tough but I'm fair. I don't think anybody works harder than me. And I'm cheap."