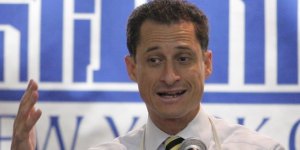 Anthony Weiner, who has been a loyal supporter of Hillary Clinton, just hired one of her former staffers. Starting last week, press releases from Weiner's office listed a new contact person: deputy press secretary Angie Hu.
Hu worked most recently on Clinton's presidential campaign as a research associate. Before that, she was at This Week with George Stephanopoulos (another Clinton alum!).
Other Clinton staffers have been picking up new gigs: former spokesman Howard Wolfson is a commentator on Fox News, and it made some waves in the political world when former campaign manager Patti Solis Doyle was hired to be the assistant to Barack Obama's running mate, whoever that might be.
UPDATE: Another Hillary alumni landed a job in New York politics: Carly Lindauer, who worked for her press team in various states, including New Hampshire and Montana (hanging on till the very end!), is now the New York State Democratic Party's spokeswoman. She started a week and a half ago, and is in charge of the (unenviable?) task of handling logistics for the New York folks heading to the Democratic convention.