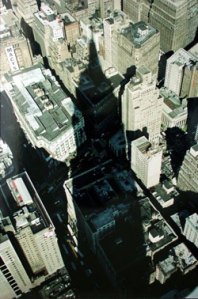 Take a look at the latest commercial real estate stats, and maybe you'll take comfort in the fact that Manhattan's vacancy rate continues to hold steady at around 7 percent. Maybe you'll console yourself with soothing thoughts about a tighter than expected market proving all those Chicken Littles wrong.
Or maybe you won't. Maybe you'll remember that statistics tend to lag behind reality by a number of months. And maybe you'll remember the shadow space.
You know it's there. You've heard the rumors. Lehman Brothers is said to be shedding space at 1271 and 1301 Avenue of the Americas, and at 399 Park. JPMorgan Chase is said to be shedding at 270 Park Avenue, and at 277 and 237 and 320. There are murmurings about UBS, the Canadian Imperial Bank of Commerce, MetLife, Pfizer and Bank of America. Indeed, the financial industry appears to be contemplating bulimia and coughing up space that it only recently acquired. But look at CoStar, the bible of the commercial real estate industry, and the spaces remain mysteriously absent. This is shadow space.
Definitions of the phenomenon vary, but they overlap on the following: shadow space is either underutilized or vacant office space that can be had for the right price. The thing is, it's not officially on the market. So it's there for the taking, but only if you're in the know.
Understandably, estimates of its prevalence vary.
"There appears to be about as much shadow space now as there was in mid-2001," said Mark Weiss, executive vice president and principal at Newmark Knight Frank. In fact, Mr. Weiss estimated that there are now between 2 million and 4 million square feet of shadow space in Manhattan. Two years ago, he said there was maybe a quarter of that.
Robert Stella, executive vice president and principal at CresaPartners, put the number at around 2.2 million square feet. "There was hardly any shadow space two years ago, not in this sector," Mr. Stella added. "It's become a phenomenon over the last 12, maybe 15 months."
To understand the magnitude of those 2.2 million and 4 million square feet estimates, consider this: Barry Gosin, CEO at Newmark Knight Frank, said that if this space was incorporated into the stats, it could push the vacancy rate up a good percentage point. And an apparently measly percentage point is a big deal in stat-sensitive commercial real estate, where 100 basis points could push a market from equilibrium—at 7 to 9 percent vacancy—into (egad!) a tenant's market.
Whence comes this mysterious shadow space? It boils down to cold economic calculus.
Real estate is an expense, and financial companies are trying to trim those. But they don't want to be hasty about it. Listing office space on the market comes at a price. What if the market takes an unexpected turn for the better, and a company finds itself short of space? Then it has to begin the whole laborious process of hiring a broker and looking for new space, and then building out that space.
"It's never a good idea to spend a few hundred dollars [per square foot] on capital investment on space, then have to get rid of it, write it down, then a couple of years later have to go find the same kind of space, and re-spend that capital," said Peter Riguardi, president of New York operations at Jones Lang LaSalle.
"I think people are trying to make sure it's a prudent decision."
drubinstein@observer.com