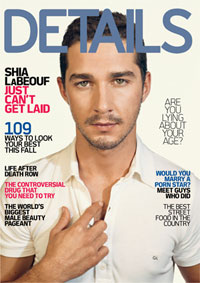 Yesterday, newspapers and websites reported that inexplicably well-known actor Shia LaBeouf had been arrested on suspicion of drunk driving after an accident in Los Angeles. Today, without further explanation for why Mr. LaBeouf is famous, there are new reports that suggest that the actor may not have been drunk and the accident may have been the fault of a driver who ran a red light.
This has to be good news for the editors of Details, whose September cover features the continually inexplicably famous actor with the headline "Shia LaBeouf Just Can't Get Laid." If Mr. LaBeouf turns out to be innocent of the charges against him, he may just break the magazine's developing curse on its coverboys.
Christian Bale appeared on the June 2008 cover of the magazine and found himself arrested after being accused of assaulting his mother in London. (Subsequent reports say that no such assault took place, but the actor and his reps are asking for privacy.)
In September 2007, Jonathan Rhys Meyers was featured on the magazine's cover ("Jonathan Rhys Meyers Wants to Rule Hollywood"). In November of 2007, he was arrested in Dublin for public drunkenness. (Save your jokes, please.)
Thankfully, when Mr. LaBeouf is fully exonerated, this imaginary curse will be no more. That means Hayden Christensen can breathe a little easier. Now, can someone explain why Shia LaBeouf is famous?