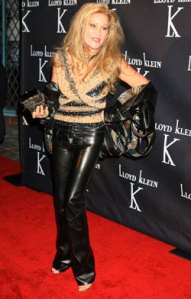 Eleven years after the Dada-faced Jocelyn Wildenstein, who looks like a William Steig drawing of that great plastic surgery scene in Brazil, found her husband, Alec, in bed with a 19-year-old blonde at their 29-foot-wide mansion—Mr. Wildenstein, in a towel, responded by pulling a 9mm pistol on his wife—the famous townhouse has been sold.
The deal, first reported on The Observer's Web site on Monday, closed earlier this month for $42.5 million.
In 1999, Ms. Wildenstein left the mansion at 11 East 64th Street, which was owned by her father-in-law, Daniel, and which she and her husband had shared with Alec's younger brother Guy. But things have changed: Daniel Wildenstein died in 2001, and Ms. Wildenstein's ex-husband, remarried to a Russian model, died earlier this year.
Guy Wildenstein did not return calls to the family's gallery, three doors down from the mansion (and its basement swimming pool and ballroom).
The buyer is listed as a limited liability corporation named Vesta International. Vesta's deed is signed by Tricia Novak Canzeri, whose late husband, Joseph, handled personal work for Reagans and Rockefellers. It isn't clear who Ms. Canzeri works for, but, outlandishly, her address is listed on the deed as care of Christopher Ely, the butler to the late Brooke Astor.
Even though a P.O. box in Briarcliff Manor, where the late Astor lived, is listed on the deed, it's massively unlikely that the Astor family is connected to the huge sale, considering the ongoing litigation over her will. Plus, the butler and Astor's son, Anthony Marshall, don't get along: In court papers, Mr. Marshall blamed Mr. Ely for instigating complaints about Astor's care in retaliation for being fired. Calls to Briarcliff were unreturned.
On Monday, two top Upper East Side townhouse brokers told The Observer that the $42.5 million sale was a relative bargain, especially compared to the $50 million that oil billionaire Len Blavatnik paid last year for the house next door. One of those agents said Mr. Blavatnik was the buyer on this mansion deal, too, though no sources close to the sellers or the industrialist would confirm it. (And consider that the New York Post said in a cover story last November that he'd made a "record deal" for the Mark's $150 million penthouse, which turned out to be wrong.)
Update: Mr. Canzeri is Ms. Novak Canzeri's late husband, not her late ex-husband.
mabelson@observer.com