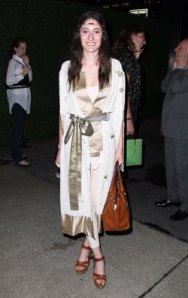 On Saturday, July 5, as reported by the New York Post five days later, boho socialite Arden Wohl was arrested by local police for writing "Ralphy Lipshits" in red lipstick on the side of the Polo Ralph Lauren store at 31 Main Street in East Hampton and—in full Independence Day spirit—stealing hand-held models of the Stars and Stripes on display inside the store.
"Someone at the store called and complained that the subject wrote graffiti on the side of the building and stole small American flags from the store," Detective Sgt. Margaret Dunn of the East Hampton Village Police told the Transom.
The officer noted that Ms. Wohl, 25, drew a heart after the scribbled name before taking off in a car of unidentified make with some of her friends.
"When the officers located the vehicle, she was interviewed and it was determined that she had done the graffiti and stolen the flags," Sergeant Dunn continued. "She was arrested and handcuffed at approximately 2:30 p.m., transported back to headquarters and charged with making graffiti and petit larceny."
Designer Ralph Lauren was born Ralph Lifshitz. Was this a malicious act on Ms. Wohl's part? Perhaps even a hate crime?
The headband-favoring filly, daughter of Denise Wohl, insists it was just the opposite. "I love Ralphy Lipschitz [sic]—that is literally what was written—no curse, no ill will," she wrote in an e-mail to the Transom.
So why then were Ms. Wohl's adoring acts misinterpreted by the store clerks?
"Good question!" she retorted snappily.
Ms. Wohl would not provide any further details, but we couldn't help wondering if Mr. Lauren, 68, received her scrawl in the spirit with which it was intended. Alas, he declined to comment, as did his oldest son Andrew, a film producer, and daughter Dylan, a candy-store proprietor.
Ms. Wohl is scheduled to be arraigned at East Hampton Town Court on Thursday, August 28.
According to Robert Clifford, a spokesman for the Suffolk County district attorney's office, which is handling Ms. Wohl's case, each of her alleged infractions "are 'A' misdemeanors and the sentence parameters are similar." Presuming a guilty plea, the most likely consequence is a fine of up to $1,000 and a three-year probation, or a conditional discharge and community service that would involve removal of the graffiti.
Worst-case scenario: a prison sentence of up to one year.
ialeksander@observer.com