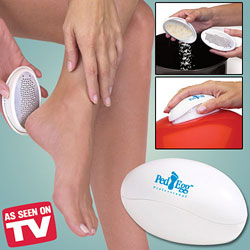 Tom Ford and Valentino saw my toenail fungus. I am suffering from foot shame.
Let's dial back. All of us think we have gorgeous feet, especially when we are young. I always thought mine were kind of fabulous: sturdy little Celtic hooves, perfectly in proportion with my gnomelike physique. My high insteps recall, at least to my eyes, the famous Avedon pics of Rudolf Nureyev's appendages.
Suddenly last spring, that all changed.
There I was, skipping along the beach in Florida when I suddenly noticed that my right big toenail looked radically different. It bore a blotch the color of scrambled egg. So perturbed was I by this development that I skipped to an abrupt halt. This is unusual. Once I get going, I tend to keep skipping.
The following week, I skipped over to see my doctor, who prescribed Ciclopirox, a slow-acting but noninvasive anti-fungal nail lacquer. Determined to restore the rogue toenail to its former glory in time for my summer vacation, I applied the unguent with great diligence.
When it became apparent that the stubborn malady would be accompanying me and my Jonny on a long-planned trip to Capri, I zipped out and bought a pair of those hippie flip-flop-style Birkenstocks. Not very glamorous, but here's the deal: The toe-thong leather flap exactly covered the offending spot of fungus. Sneaky, right? I also purchased a PedEgg. This sleek little foot scraper, much advertised via late-night infomercials, is sold as part of a tantalizing buy-one-get-one-free deal. The spare PedEgg was immediately put to use, very successfully I might add, as a Parmesan cheese grater. The very same design that catches those foul foot scrapings with such deathly efficiency works like a dream to accumulate shredded fromage. Just make sure you differentiate your PedEggs—sharpie the word "hoof" onto the unsavory one—so they don't get mixed up.
I have always found this kind of functional free association to be very stylish: What could be chicer than drying freshly rinsed silk panties in a lettuce spinner, kept for this very purpose, under your bathroom sink? This kind of lateral thinking was first revealed to me some three decades ago when I worked in a suburban department store, where a colleague—the head girdle saleslady—used a pair of Lucite salad servers to subdue any uncooperative fleshy pouches that erupted during the trying on of foundation garments.
Meanwhile, back in Capri:
Out of the blue, my Jonny and I received an unexpected invitation to dine with the velvet mafia aboard an extremely long yacht. Whose yacht? I refuse to name names. As you know, I am a very private person who would never divulge the details of his personal life. Just kidding! The truth is I don't want to annoy the velvet mafia. If they got annoyed, they might break my kneecaps, and then I could no longer skip. However, I will tell you this: To skip from one end of this particular boat to the other would take at least 20 minutes.
I prepped for the occasion by PedEgging my tootsies, sloshing on an extra layer of Ciclopirox and donning my Birkenstocks. If there is one thing I know about the velvet mafia, they all get regular pedicures. But my cunning ministrations were all in vain: When we arrived at said boat, we were—horror of horrors—IMMEDIATELY ASKED TO REMOVE OUR SHOES.
Cocktails on the poop deck!
"What the hell is wrong with you," hissed my Jonny. "You look like Ratso Rizzo with his gimpy leg." I looked at my reflection in an adjacent lacquered wall: One leg was pretzeled awkwardly against and around the other, my left foot mashing onto my right foot in an unsuccessful effort to conceal the grotesque digit.
Tom Ford, fresh from the triumphant opening of his glam store in Milan, thoughtfully redirected his gaze from my affliction to my eyebrows, and those of everyone present. The handsome Mr. Ford is, as it turns out, a font of tips and information about the improvement and shaping of brows. He vehemently cautioned my Jonny, a gritty potter who has never even thought much about his eyebrows, against over-tweezing.
Meanwhile, Valentino, swathed in linen and pastel cashmere and clearly enjoying his well-deserved retirement with unapologetic Italian elan, winced at my tootsie and turned his gaze across the Med toward the hilltop ruins where Tiberius—herpes-encrusted and hideous—lived out his last years. Val's gesture was a salutary reminder to all of us, that there is always someone worse off and more leprous than oneself.
Ciao!
Watch Simon Doonan wax prophetic on the topic of … neon!
viewList([ { video_id:"2b04fa1e9549e", control_visibility: false, link: "http://www.barneys.com/on/demandware.store/Sites-BNY-Site/default/Search-Show?cgid=WOMEN02″ }, { video_id:"383c880664493" } ], { width: 409, height: 330, config: { autoplay:false } } );