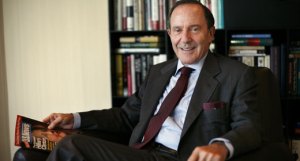 Mort Zuckerman and company provided their now typical dose of depressing market predictions this morning during Boston Properties' second quarter earnings call.
Our favorite bleak comment came from President Doug Linde, who, in speaking about the challenges facing the average American consumer, said, "We don't see any immediate catalyst for optimism."
Such artful use of business-speak!
Clearly someone's been spending too much time with Mr. Zuckerman, who has taken to using his public appearances to intone about the dire straits of the American economy (not that his statements are without merit. But sometimes, it's just so damned depressing!).
Anyway, there were some silver linings to the clouds darkening the economic horizon.
CFO Mike LaBelle stressed Boston Properties' healthy balance sheet:
A review of our balance sheet and scheduled debt maturities over the next couple of years demonstrates that we maintain a very healthy capital position. We closed an increase on our line of credit, upping it to $1 billion this quarter, and our current availability is over $700 million.
As mentioned previously, we also expect to raise approximately $525 million of additional capital later this year.
And Mr. Zuckerman pointed out that, thanks to that healthy balance sheet, Boston Properties is in a prime position to spend while other would-be investors are busy figuring out how to survive.
"[W]e believe this represents a major opportunity for the acquisitions of buildings. …The most vivid example of that, of course, was the General Motors Building, where we believe we bought it at dramatically under its replacement cost with rents that are very, very low in relation to the current market, and at a cash flow yield in its first year of 5%, which for those of you who follow these acquisitions, represents a very attractive cap rate for a property which has dramatic appreciation built into the existing lease structure relative to the current market.
That's particularly true given Boston Properties' close relationship with certain Middle-Eastern investors. Here's Mort again:
We were able to close the General Motors and three other buildings we have in partnership with two other investment groups, basically representing Middle East investment funds. They have indicated that they wish to continue working with us. They are very pleased with the development of these investments to date, and they are looking for additional opportunities. And we intend to see if we can come up with such opportunities and continue to work with them. And that was a part of the rationale for our partnership with them.
We were able, because of our financial condition, to close or to agree to close, to sign the purchase and sale agreements without these partnerships, although we knew that we had interest.
And we then did bring them into our partnership, not only because it diversified the ownership, but really because it was an opportunity to find a way to develop additional equity capital and magnify the opportunities that we believe will be uniquely available to a firm like Boston Properties over the next several years, where we see a continued downward pressure, particularly as mortgages come due in various buildings, particularly large mortgages and cannot be refinanced, cannot be refinanced on attractive terms, that there will continue to be the opportunities to purchase buildings.
Of course, no Mort appearance would be complete without some sober predictions. To close, here's his forecast for the next 18 months or so:
Who the heck can predict what is going to go on here? We think it will go on, if I had to make a judgment, we think it is going to go on for 18 months to two years. However, who knows? Anything could change. The economy, I mean, if oil prices crack to below $100 a barrel, believe me, the view of the macroeconomic potential of the United States will change.
I do not know what hell though, I did not think that oil was going to get $140 a barrel, and I think it is insanity that we put ourselves in that kind of a position where we do not exploit our own natural resources, and are forced to send hundreds of billions of dollars abroad to pay for our oil prices. However, that is a whole other issue. You have to read the editorials in U.S. News to find my views on that.
Now, I do think that by and large, I have to say that we have always been aware of the business cycle, and particularly the real estate cycle. That has been a big part of everything we have ever done, in terms of when we have done our financings, when we started buildings, when we started buildings on spec, when we have bought buildings, when we have sold buildings.